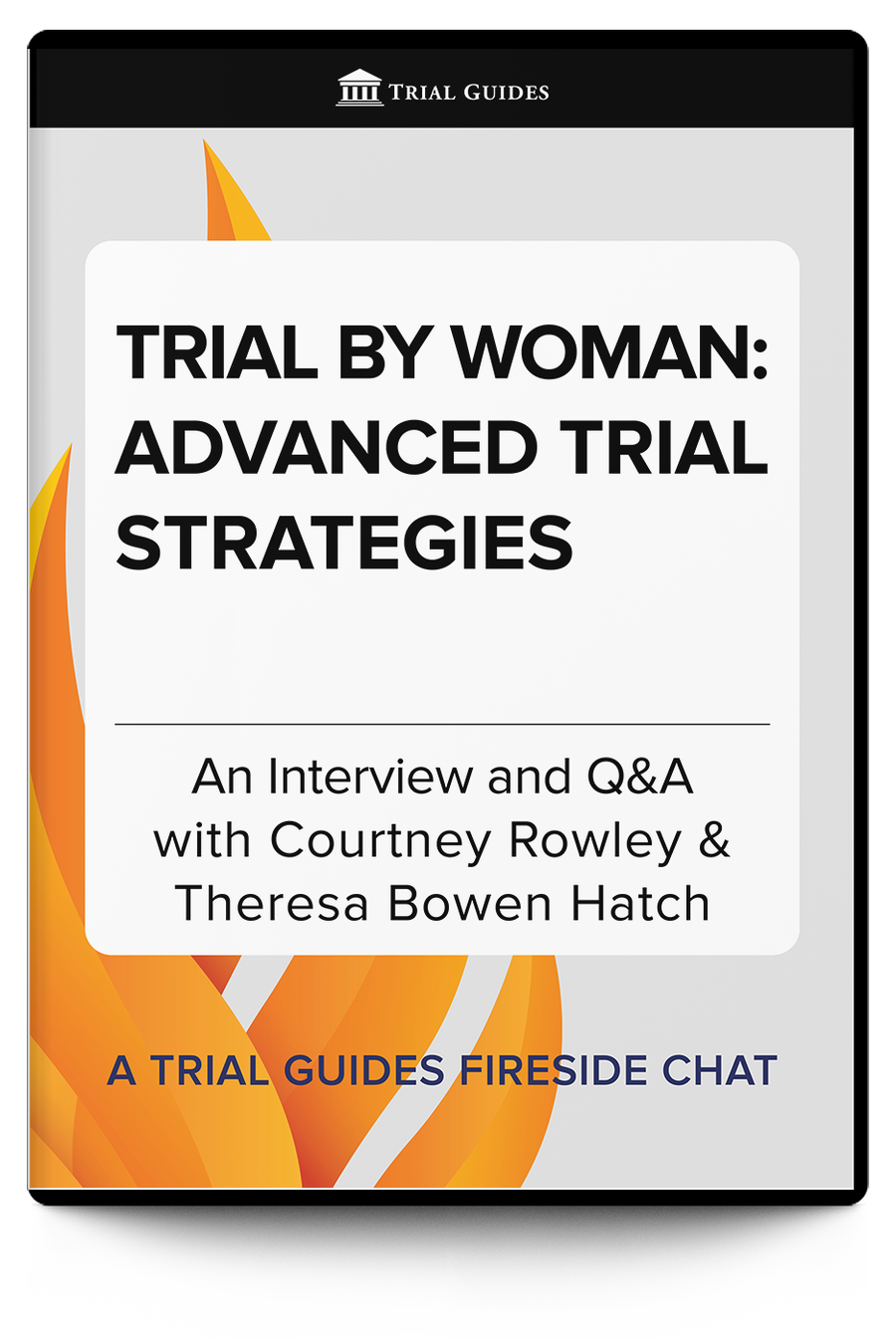 Please Note: This product is only offered as an Audiobook. You can access your audiobooks through the Kitaboo eBooks and Audiobooks button on your account page.
Click here for further information on Audiobooks
In this Fireside Chat, Courtney Rowley and Theresa Bowen Hatch, authors of the book Trial by Woman, teach listeners how to identify and wield the power and leadership skills that civil plaintiff lawyers intuitively have. Rowley and Bowen Hatch delve into strategies that will not only better your trial outcomes, they'll also help you achieve balance within your practice. With examples from past trials, they illustrate the efficacy of these concepts and discuss topics such as:
How to ask for more and get large amounts of money in trial

How to effectively utilize women in your firm and on your trial team

Exploring gender roles in the trial lawyer industry

The importance of trial perspective and creativity

Connecting with jurors

"Bird-on-the-wire" openings

Experiential demonstrations and practices

How to use visuals to inspire your jurors

Creating the space for jurors to make their own decisions

How to increase your value and the value of your cases

Cross-examining your own witness to help build credibility

Assigning appropriate value to mental and spiritual losses

How to avoid getting locked into discovery responses

The importance of self-care in and out of the courtroom
Rowley and Bowen Hatch also share their inspiration behind Trial by Woman; to create a community for women and those who want to support women in the legal profession, where mentorships can be fostered, and knowledge can be shared. They take on listener questions on a variety of subjects:
How to be the most efficient in your day-to-day practice

Identifying the highest and best use of your time

Finding ways to work outside the paradigm of the traditional law firm

How to drive new business when you are a new lawyer

How to resonate with polarized juries

Physically empathizing in trial

How to get the most for your client within jurisdictions that have caps on damages

How to resolve conflict with co-counsel

How women can use their voice as a tool during trial

How to build a tribe with the jury

Introducing numbers in your opening statement

How to avoid drawing objections with demonstrations

Different resources to help you prepare for trial

Addressing the notion that women are more critical than men

Using gender as a strategy
Understanding your case value and caring for yourself is crucial to your success. This lecture gives tools to better your trial practices and build credibility with jurors to get the best results for your clients.
*This interview was originally offered to customers as part of our Trial Guides LIVE Fireside Chat series. The content has been remastered and edited for brevity and clarity.
Audio Digital Download: 120 minutes; 1st Edition (2021)
Publisher: Trial Guides, LLC