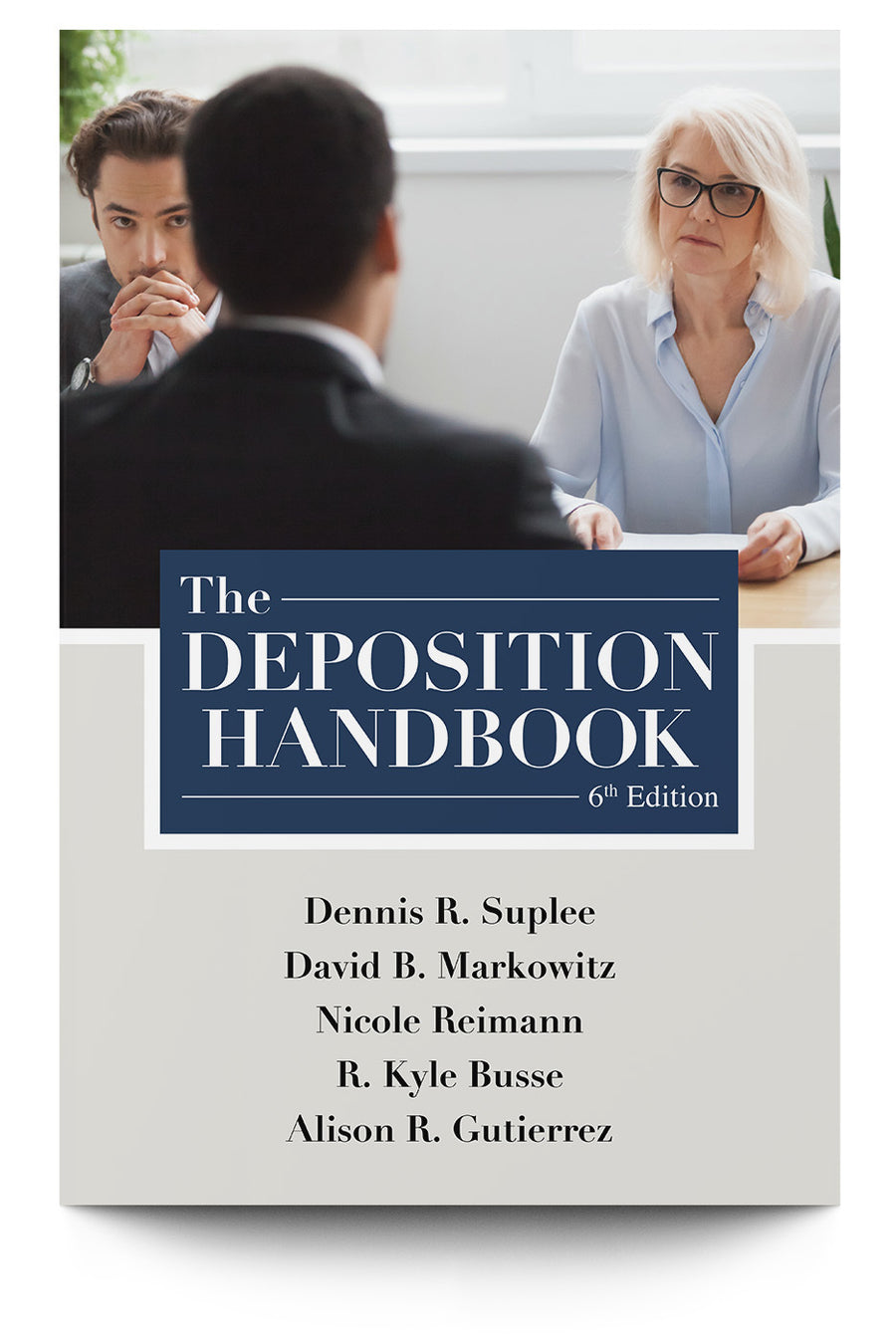 Please Note: This title is on pre-order and will ship on or before January 31, 2024.
Many cases that settle are won or lost in deposition, and even those cases that make it to trial often rely on the testimony gained from deponents. Through its discussion of the various objectives, strategies, tactics, mechanics, and problems in taking depositions, The Deposition Handbook is widely regarded as the definitive text on taking and defending a deposition.
In the newest edition, authors Dennis Suplee and Nicole Reimann have brought in David B. Markowitz, R. Kyle Busse, and Alison R. Gutierrez to add insights from their own practices as well as the deposition experiences of lawyers from their firms, professional colleagues, and even adversaries, to bring additional insights, strategies, and practical examples covering a huge range of topics as well as significant developments in case law and rule changes.
Not only do the authors walk beginning attorneys through the nuts and bolts of how to approach and take a deposition (including how to successfully prepare and defend a client), but they also delve into many of the deeper and more nuanced issues experienced trial lawyers face in more complicated cases. Some of the more notable updates include:
A free-standing chapter written by David Markowitz on effective deposition questioning

An expanded discussion of remote depositions and the changes adopted since COVID-19

An analysis of the first change to Rule 30(b)(6) in fifty years

A more current and expanded discussion of the case law that has developed since

Hall v. Clinton Precision

Whether courts are permitting counsel to play video depositions during their opening statements

How courts are interpreting the language of Rule 30(e), saying that the deponent can make "changes in form or substance" to their deposition answers, and whether a deponent can change the substance of their deposition testimony after the fact

A detailed discussion of a so-called sham affidavit–an affidavit contrary to the affiant's deposition testimony that is submitted in opposition to a motion for summary judgment

An expanded treatment of the sanctions that may be imposed on lawyers who violate traditional protocols and disrupt the truth-seeking purpose of depositions

And more
The Deposition Handbook provides specific techniques for eliciting information, guidelines for video depositions, case studies, checklists, numerous examples, rules of conduct, and sample questions you can immediately adopt in your next case. This user-friendly and comprehensive guide offers expert analysis of the strategies and tactics you need to successfully handle your depositions.
You'll also get examples and detailed discussions covering:
Whether counsel may interview an adverse party's current or former employees

Private conferences between the deponent and counsel during the course of the deposition

The pros and cons of "the usual stipulations"

Questioning techniques

How to effectively prepare your clients and witnesses to testify

What factors to consider when deciding whether to prepare the witness to do more than just answer the question
Written from the litigator's perspective, this text delivers insights into how you can obtain case-winning answers from your deponents. If you are looking for a comprehensive desk reference for your office, this book is a treasure of information.
Paperback: 770 pages; 6th edition (2023); ISBN: 978-1-951962-58-6
Publisher: Trial Guides, LLC
Preface to Sixth Edition
Acknowledgments
Depositions: Disadvantages, Goals, and Alternatives
Interviewing Witnesses
Role of Depositions in the Discovery Plan
Scheduling the Deposition and Choosing the Mode
Preparing for the Deposition
The Rule 30(b)(6) Deposition
Goals
Deposition Dynamics: Dealing with the Other Side
How to Ask the Perfect Question
Strategy and Tactics
Beginning the Deposition
The Hall Case and Depositions
Conducting the Deposition
Exhibits, Documents, and Drawings
Objections and Instructions Not to Answer
Winding Up the Deposition
Federal Rules of Civil Procedure Applicable to Depositions
Video Deposition Basics
Setting the Stage
Remote Depositions
Using Video Depositions at Trial
Preparing for Expert Depositions
Conducting Expert Depositions
Preparing the Deponent: Gathering Facts
Preparing the Deponent: Testifying
Defending the Deponent at the Deposition
Using Deposition Transcripts
Sanctions for Deposition Abuses
Ethics in Deposition Practice
Appendices
Index
What Legal Leaders Are Saying
The premier guide to deposition practice, bar none.
— Greg Joseph, past president of the American College of Trial Lawyers, past chair of the ABA Section of Litigation, and a nationally recognized expert on practice and procedure