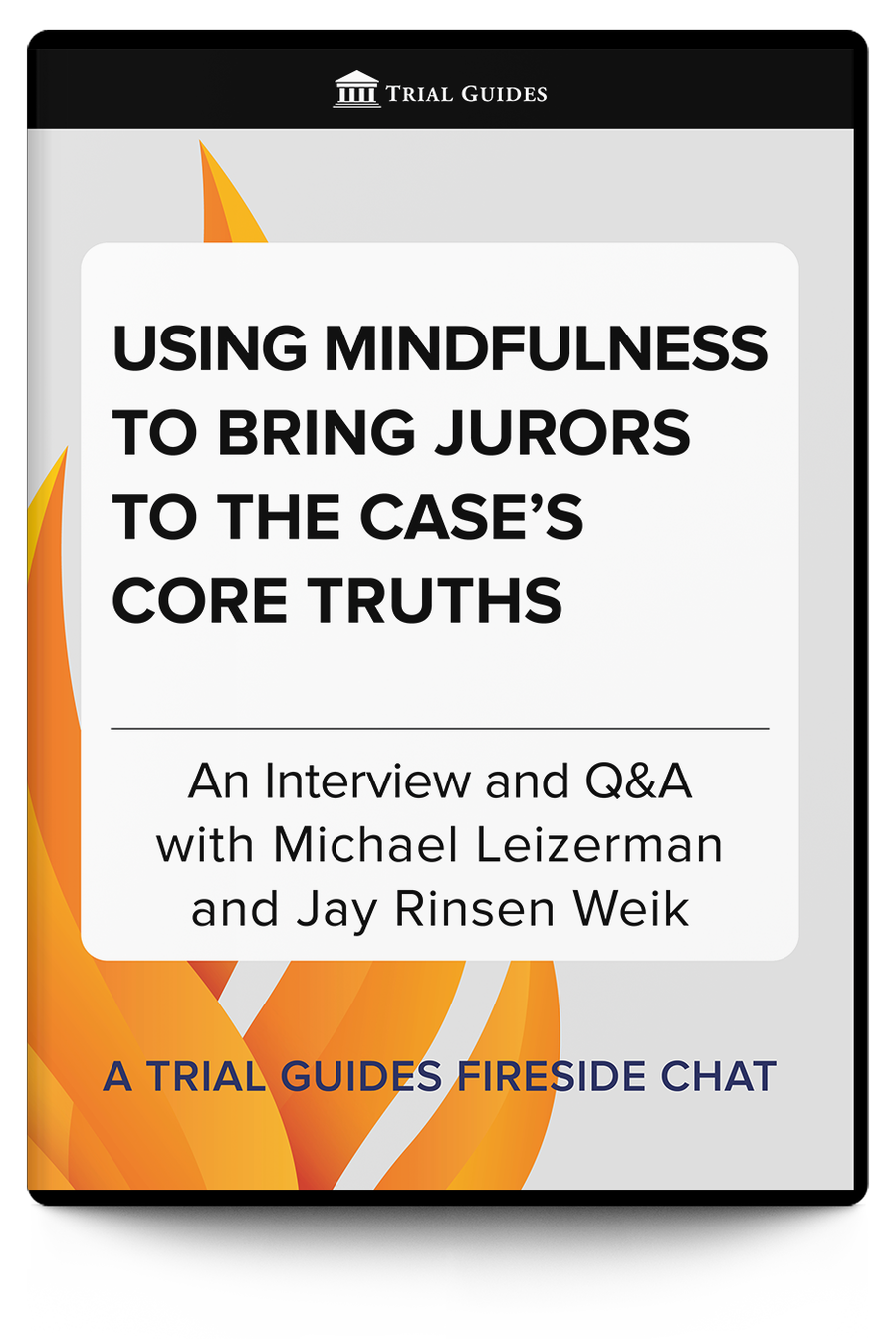 Please Note: This product is only offered as an Audiobook. You can access your audiobooks through theTrial Guides App for Lawyers button on your account page.
Click here for further information on Audiobooks
In this interview, Michael Leizerman and Jay Rinsen Weik, co-authors of The Zen Lawyer: Winning with Mindfulness, discuss how mindfulness can benefit your legal practice. A Zen practice is the ability to be able to pay attention to what's going on within yourself. Remaining present and having an awareness of your feelings is essential to every trial victory.
Rinsen shares tactics for beginning a Zen practice and walks listeners through an introductory meditative exercise to help you stay conscious. Being aware of what you're aware of and harnessing the ability to guide your mind is the goal.
Leizerman outlines how their book is structured according to the core truths and how, as a plaintiffs' attorney, your job is to make the jury understand each core truth as it relates to your argument. Leizerman theorizes that there are only two reasons attorneys do not get larger verdicts: they aren't asking for the desired amount or they don't believe in what they are asking for. To convey authenticity to the jury and to be present, you need to understand that the case is not about you. Channeling the jury during your direct and cross-examination is the best way to ask the questions the jury would want to know. Representing the truth of the case will make your argument even more appealing to the panel.
Leizerman and Rinsen also break down how lawyers can get stuck in an analytical perspective. During trial, you are asking the jury to take an intuitive leap, so instead of presenting your argument as problems to solve, frame the facts as ideas to experience. To win your case, the jury needs to experience what your client went through via the core truths. The motivational core is going to give your case meaning, but the jury also needs to sense, feel, and think about the case as well.
After the interview, Leizerman and Rinsen take on listener questions:
In the age of information overload, how does one empty their cup?

What is the recommended daily time for a mindfulness exercise? What does it look like and how long should it take?

How to find balance when zen involves rejecting the ego while trial work brings the ego front and center

What to do with thoughts that arise during meditation?

Will Zen interfere with other religious beliefs?

To what extent do you use Zen methods during discoveries and depositions compared to in trial?

How does Zen help you bring the jury together?
Having an awareness of your mind and the reality you're experiencing versus the stories we make up in our heads is crucial to both a healthy Zen practice and a successful trial. Join Liezermand and Rinsen as they share tactics to better your practice and your mental health.
*This interview was originally offered to customers as part of our Trial Guides LIVE Fireside Chat series. The content has been remastered and edited for brevity and clarity.
Audio Digital Download: 100 minutes; 1st edition (2021)
Publisher: Trial Guides, LLC