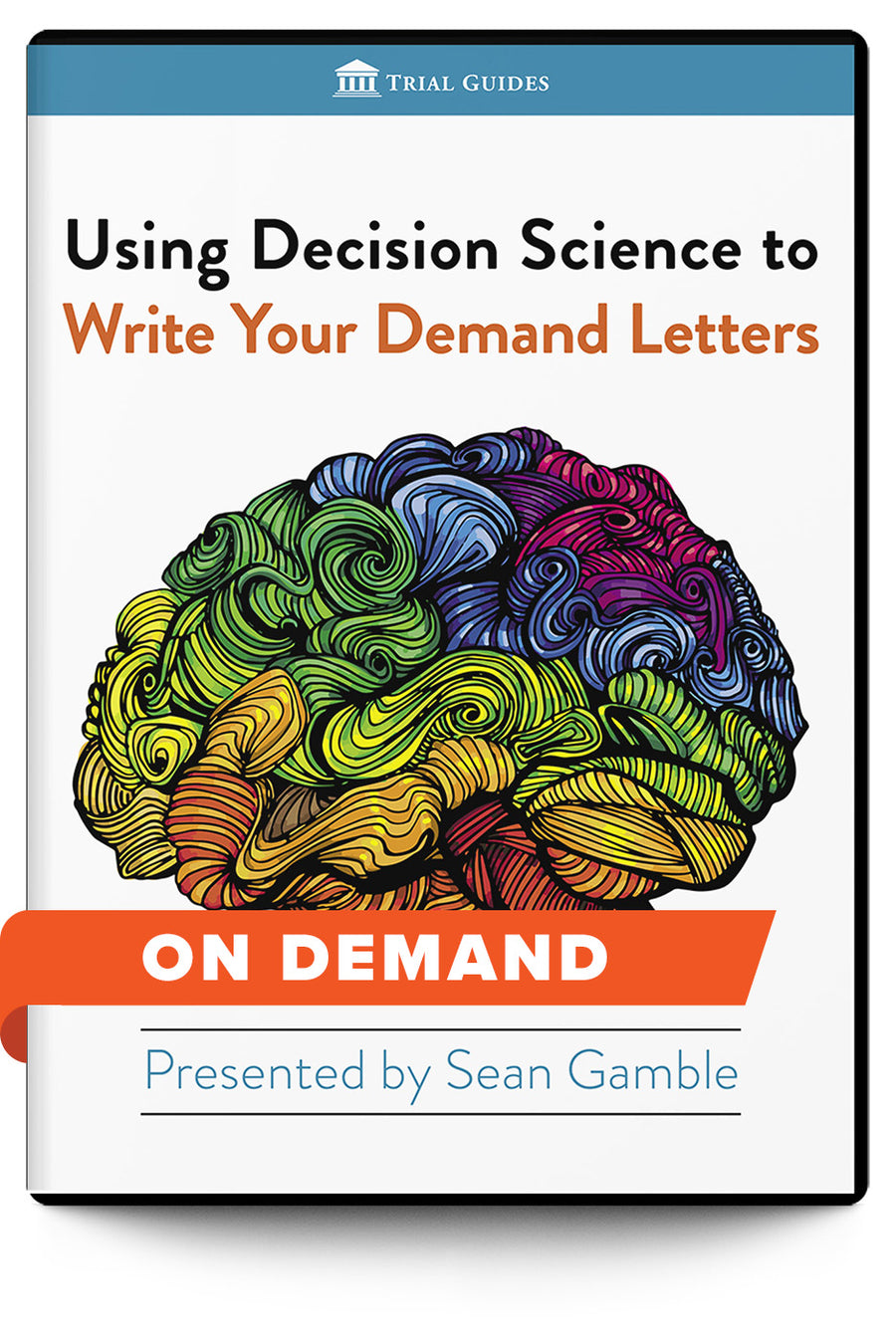 Click here for Access Instructions for On Demand Programs
Each user must register individually as they will need their own login to access the program.
Learn from the lawyer Rick Friedman calls "the greatest demand writer" he knows.
A partner at Friedman Rubin Trial Lawyers, Sean Gamble specializes in traumatic brain injury cases and frequently works with lawyers across the country. Over the course of his career, he's been involved in a range of cases from medical malpractice and nursing home neglect and abuse to insurance bad faith, toxic exposure, aviation law, and more.
In this video, Sean demonstrates how you can use decision science and compelling frames and language to increase the effectiveness of your demand letters. Sean covers a range of topics, including:
How the Defense Uses Emotions against Our Clients
Using Moral Foundations in Writing Your Demand Letters
Why You Need a Clear Moral Narrative in Your Demand Letters
Common Problems with Demand Letters
Using Statistics in Demand Letters to Demonstrate the Defendant's Threat to the Community
The Practical Application of Moral Arguments in a Demand Letter
Using Moral Foundations to Show the Defendant's Bad Conduct and the Plaintiff's Good Conduct
Your Demand Letter May Be an Exhibit in a Future Bad Faith Case
How to Improve Client Outcomes by Using Moral Foundations
How Some Lawyers Obtain Larger Verdicts in Conservative Venues
Because most cases settle, the ability to write an effective demand letter is one of the most valuable skills a trial lawyer can have. This one-and-a-half hour presentation is filled with insights for any attorney who wants to take their ability to obtain just outcomes for their clients to the next level.
On Demand Program: 109 minutes
Original Air Date: 09/23/2017