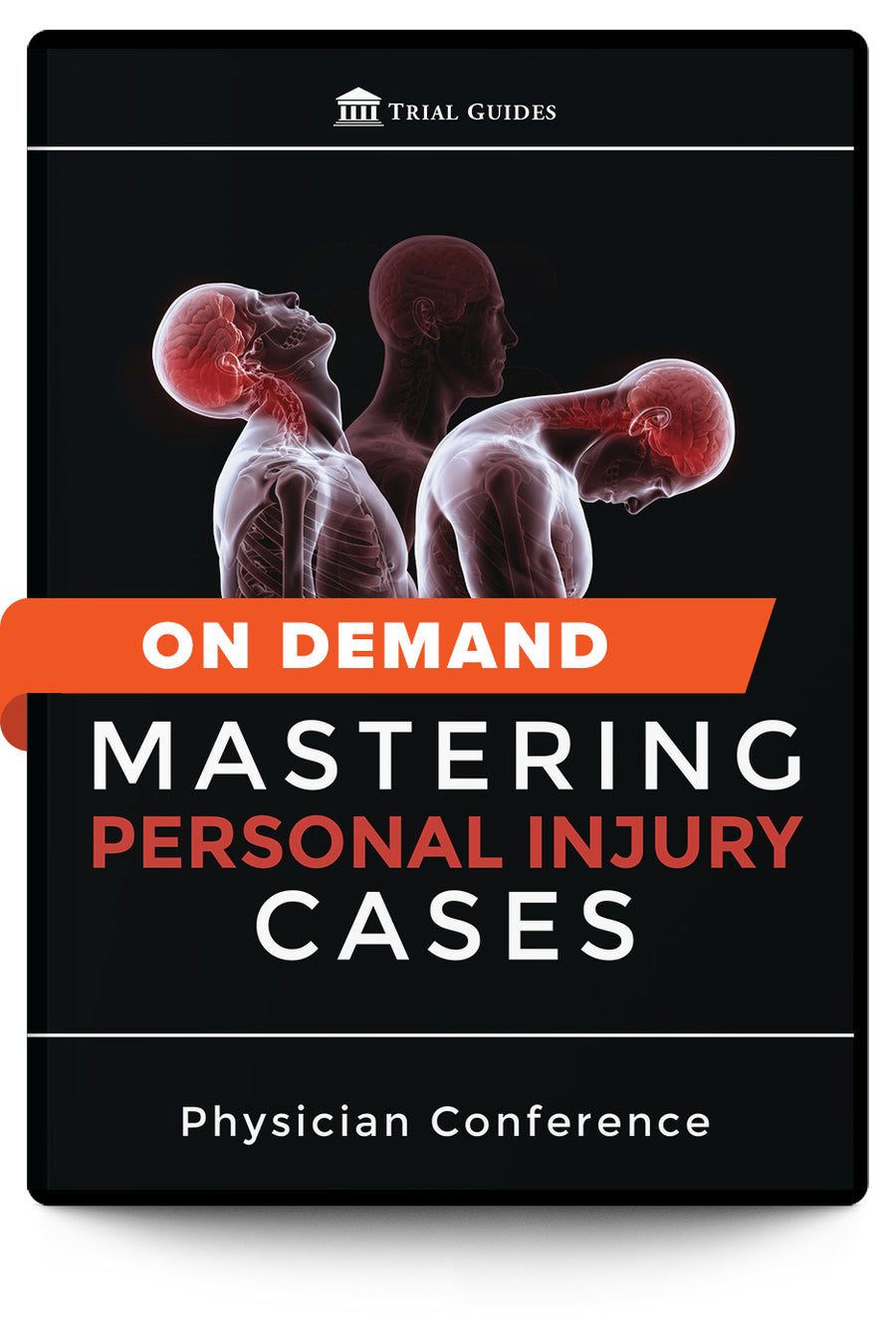 Click here for Access Instructions for On Demand Programs
Each user must register individually as they will need their own login to access the program.
Mastering Personal Injury Cases - A Physician Conference Recording from Trial Guides on Vimeo.
In this presentation, two of the top motor vehicle trial lawyers in America teach doctors what no other personal injury seminar for doctors has considered before. Containing highlights from Trial Guides' intensive Personal Injury Conference for Doctors, this video program gives a comprehensive understanding of the insurance and legal issues involved with motor vehicle cases.
Aaron DeShaw is a nationally prominent doctor and trial lawyer who is best known for his pioneering work in revealing how the Colossus program evaluates claims. In this set, he takes doctors far beyond Colossus to discuss issues that can impact patients' claims and result in underpayments to their clinics.
Peter Anderson is a highly respected Colorado trial lawyer with an extensive history of six- and seven-figure outcomes in common spinal injury claims that have resulted in chronic pain. He is a former claims adjustor who brings you insights into how insurers view your cases. He teaches doctors about the way that insurance claims work and about their role in a case, including depositions and trial testimony.
DeShaw and Anderson address topics including the following:
Minor impact cases
Ways to get your claims out of an insurer's minor impact unit
The special investigations unit
Medical bill review software
The problems caused by direct referral program auto body shops
Your role in the insurance and legal processes of your patient's claim
Overcoming the most common defense attacks
And much more
If you accept personal injury cases, this video program will improve your practice and the outcomes of your patients' cases.
*Please note: This video set includes highlights from an exclusive $1,200 live event for doctors who accept motor vehicle cases. Certain exclusive content has not been included to preserve the value of attending the live event. Similarly, this set does not include the extensive written materials from the conference. Visit our Seminars & CLE page to find the next comprehensive Trial Guides seminar for doctors where you will learn even more.
On Demand Program: 555 minutes