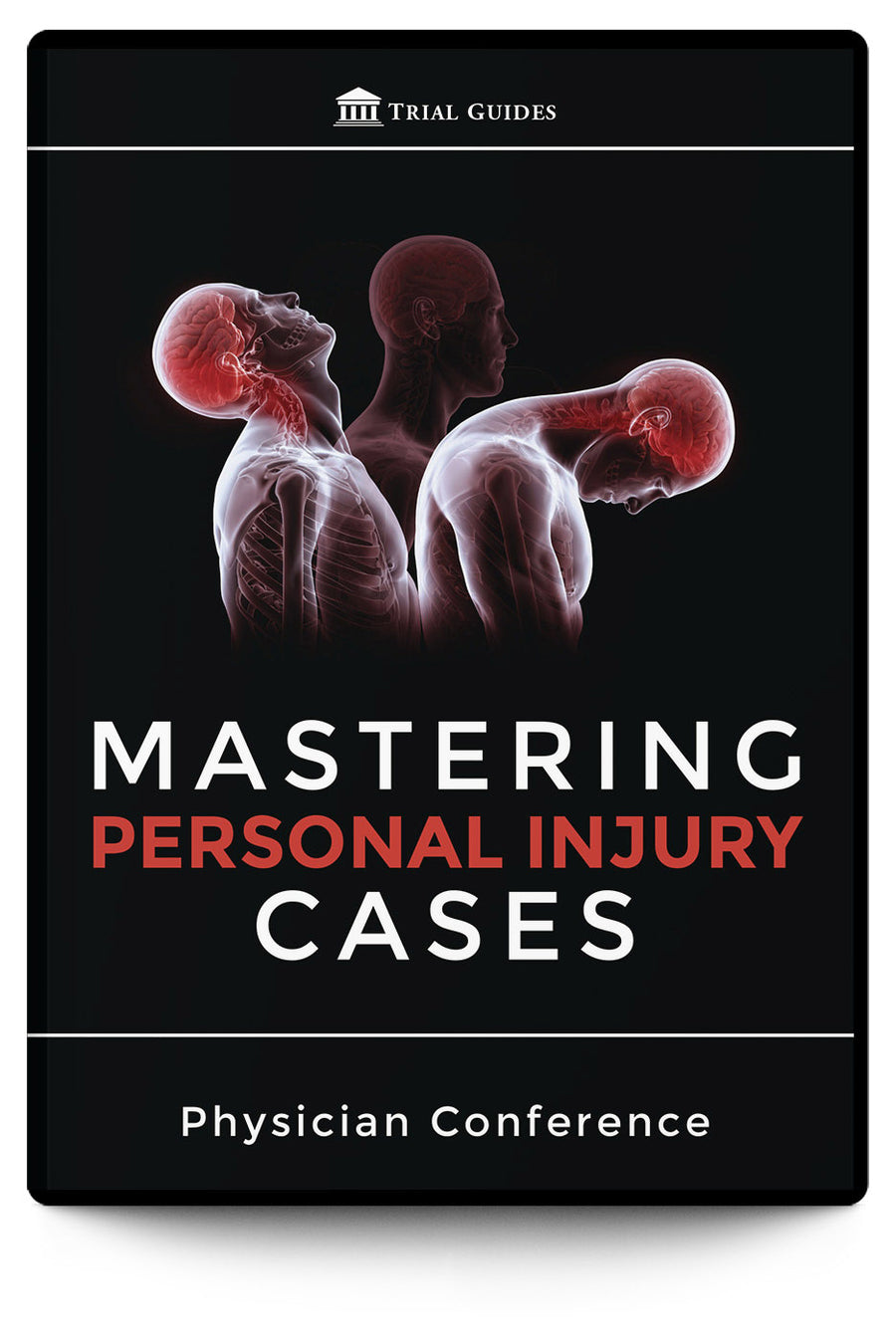 Mastering Personal Injury Cases - A Physician Conference Recording from Trial Guides on Vimeo.
In this presentation, two of the top motor vehicle trial lawyers in America teach doctors what no other personal injury seminar for doctors has considered before. Containing highlights from Trial Guides' intensive Personal Injury Conference for Doctors, this DVD set gives a comprehensive understanding of the insurance and legal issues involved with motor vehicle cases.

Aaron DeShaw is a nationally prominent doctor and trial lawyer who is best known for his pioneering work in revealing how the Colossus program evaluates claims. In this set, he takes doctors far beyond Colossus to discuss issues that can impact patients' claims and result in underpayments to their clinics.
Peter Anderson is a highly respected Colorado trial lawyer with an extensive history of six- and seven-figure outcomes in common spinal injury claims that have resulted in chronic pain. He is a former claims adjustor who brings you insights into how insurers view your cases. He teaches doctors about the way that insurance claims work and about their role in a case, including depositions and trial testimony.
DeShaw and Anderson address topics including the following:
Minor impact cases
Ways to get your claims out of an insurer's minor impact unit
The special investigations unit
Medical bill review software
The problems caused by direct referral program auto body shops
Your role in the insurance and legal processes of your patient's claim
Overcoming the most common defense attacks
And much more
If you accept personal injury cases, this DVD set will improve your practice and the outcomes of your patients' cases.
*Please note: This video set includes highlights from an exclusive $1,200 live event for doctors who accept motor vehicle cases. Certain exclusive content has not been included to preserve the value of attending the live event. Similarly, this set does not include the extensive written materials from the conference. Visit our Seminars & CLE page to find the next comprehensive Trial Guides seminar for doctors where you will learn even more.
DVD: 555 minutes; 6 discs; 1st edition (2016); ISBN: 978-1941007495
Publisher: Trial Guides, LLC
Disc 1 [01:30:00]
Mastering Personal Injury Cases For Doctors
Overview
Understanding How Your Notes Are Used in a PI Case
Understanding All of the Patient's Potential Insurance Claims
What Should Your Patients Do and Not Do Immediately After a Collision?
The Initial Patient Visit and Subsequent Chart Notes
The Law on Preexisting Conditions
Disc 2 [01:08:00]
Overcoming Minor Impact Defenses
How Are Injury Claims Divided?
Minor Impact and Special Investigations Unit Cases
Problems Caused by Direct Referral Program Body Shops
Problems with Aftermarket (Non-OEM) Parts
The Financial Competition to Undervalue Vehicle Damage
Special Investigations Unit
Determining Causation
Common Defenses
Malingering
Somatoform Disorder
Claims That Your Patient Has a Personality Disorder
Disc 3 [01:12:00]
Liens and Settlement Reduction Requests
Liens and Settlement Reduction Requests
Responses to Calls to Reduce Your Bill
Research Disproving Typical Insurance Defenses
Imaging: DMX and Differences in MRI Quality
AMA Permanent Impairment from Spinal Instability
Problems with the AMA Guides to the Evaluation of Permanent Impairment, Sixth Edition
The Important Difference between the Words "Possible," "Probable," and "Certain"
C1 Instability Cases
Narrative Reports
Problems with Your Client Settling a Third-Party Claim without a Lawyer
Patients with Multiple Crashes, Apportionment, and Litigation
Disc 4 [01:55:00]
Records in Motor Vehicle Cases
What is Happening with Settlements?
Colossus—How Your Records Impact Settlement Values
The Importance of Re-diagnosing When Necessary
Diagnoses
Preexisting Conditions
Permanent Impairment
Prognosis
Duties Under Duress/Disability
Loss of Enjoyment of Life
Other Colossus Factors
Records in Litigation
Lawyer Referrals
Disc 5 [01:19:00]
Commonly Missed Traumatic Injuries
Traumatic Brain Injuries (TBI)
Seizures from TBI
Endocrine/Hormonal Changes after TBI
Neurological Consequences of TBI
Physical and Chemical Changes after TBI
Glasgow Coma Score in TBI Cases
Ensuring the Defense Uses the Standard Definition of Mild TBI
Warning Signs of a Brain Bleed after Trauma
Cerebrospinal Fluid Leaks
Inner Ear Injuries
Alar and Transverse Ligament Injuries
Neuropsychology—What Do the Reports Mean?
Disc 6 [02:11:00]
From Crash Through Trial
Overview of the Claim and Litigation Timeline
The Insurance Bodily Injury Claims Adjustor
The Period from Wreck to Demand
Considering Whether to Go to Trial
From Filing to Trial
The Treating Doctor's Role in the Patient's Litigation
Giving Your Deposition
Trial Testimony
Trial Testimony (continued)
Cross-Examination
Judicial Order in Peter's Case
Total running time: 9.25 hours (555 minutes)