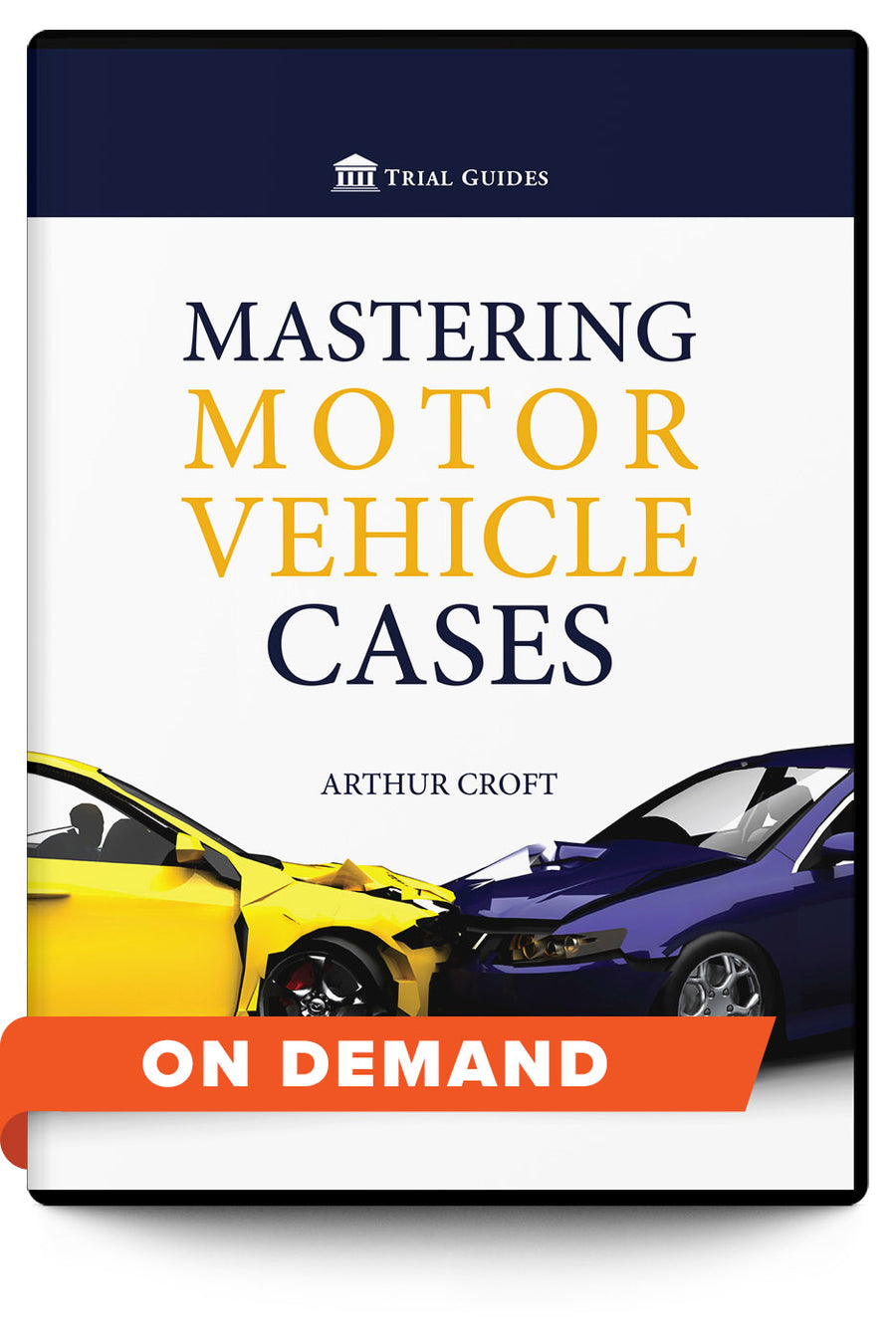 Click here for Access Instructions for On Demand Programs.
Each user must register individually as they will need their own login to access the program.
This video program contains highlights from the first advanced Trial Guides CLE seminar dedicated to motor vehicle cases. It features epidemiologist/crash reconstructionist Dr. Arthur Croft, researcher Dr. Paul Ivancic, and trial lawyer Dr. Aaron DeShaw.
In addition to handling a wide variety of issues related to injury causation, accident reconstruction, and typical defenses related to all types of auto cases, the set also addresses challenges specific to minor impact cases. It provides an advanced and in-depth consideration of motor vehicle cases that will take you from the fundamentals of insurance claims settlement and through more advanced topics.
This set will give you the information necessary to get your clients fair compensation for their losses and overcome the defense's junk science. You will learn the following:
Details of the eighty-nine scientific studies that prove a high percentage of people who sustain injuries in motor vehicle collisions experience long-term chronic pain
The risk factors most likely to lead to injury in a crash and the factors most likely to result in a permanent injury
How defense experts use average velocity to mislead the jury into thinking your client wasn't injured
Citations for scientific and medical journal articles that support your cases
How to cross-examine a crash reconstructionist, biomechanist, or defense medical examiner
How crash testing has increased nonfatal crash injuries
How to disprove the junk science and myths used by the defense
How to get event data recorder or "black box" data before it is lost
And much more
*Please note: This video set includes highlights from an exclusive $1,200 live event for lawyers. Certain exclusive content has not been included to preserve the value of attending the live event including the studies that are referenced in the video. Similarly, this set does not include the extensive written materials from the conference. Dr. Croft's book Whiplash and Mild Traumatic Brain Injuries cites many of the studies(or similar) that were mentioned in this video. Visit our Seminars & CLE page to find the next comprehensive Trial Guides seminar where you will learn even more.
On Demand Program: 584 minutes