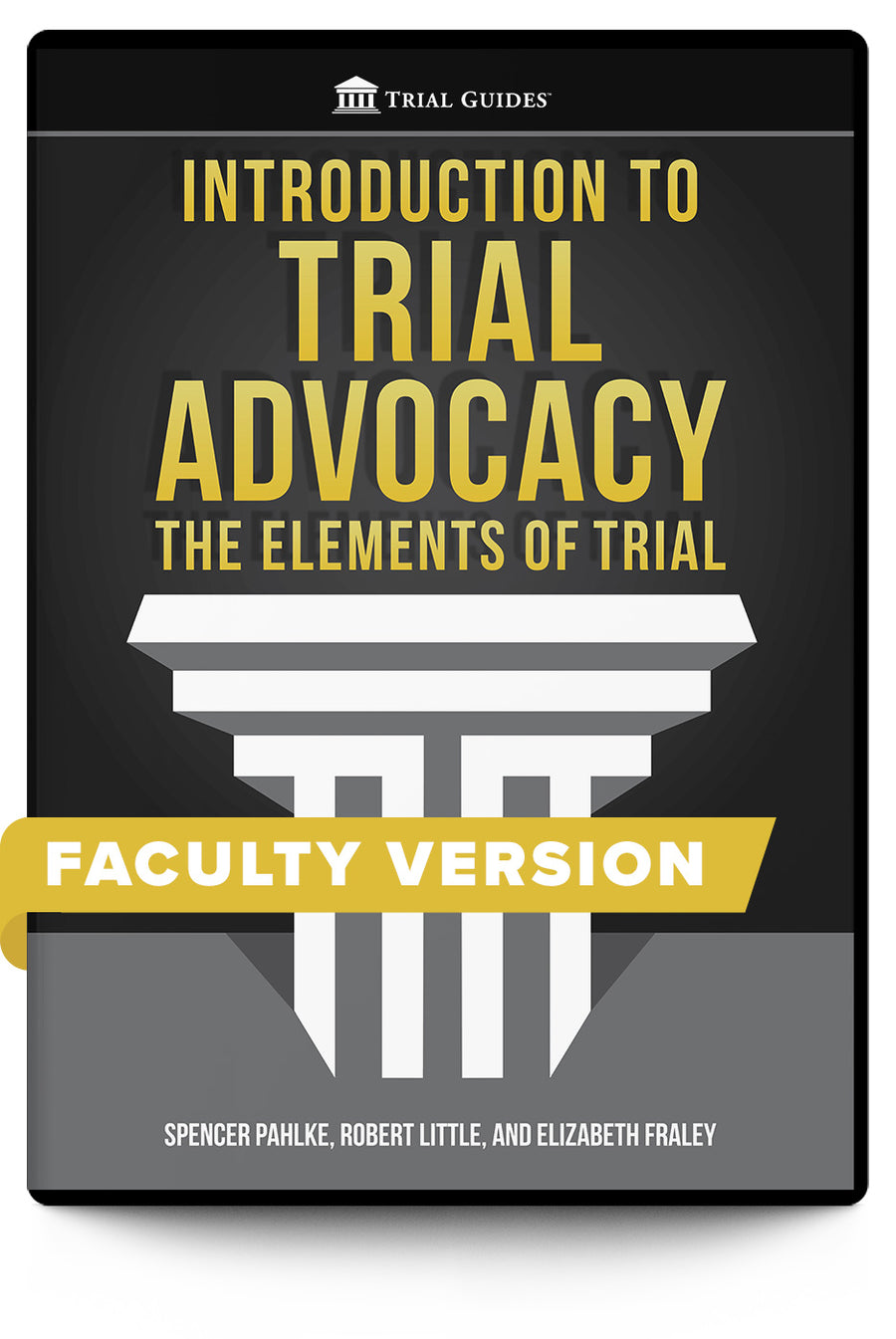 Click here for Access Instructions for On Demand Programs.
Introduction to Trial Advocacy is a lecture series developed by Spencer Pahlke, Robert Little, and Elizabeth Fraley (faculty at Berkeley and Baylor law). Based on The Elements of Trial by Rick Friedman and Bill Cummings, Introduction to Trial Advocacy builds on decades of courtroom and teaching experience to ready new lawyers for trial by guiding them through preparing and trying a sample case. The core concept is this: we learn to try cases best by doing. The course pairs easily digestible videos with fact patterns and accompanying advocacy and evidence drills.

A professor, instructor, or practitioner can use this lecture series to help students or new associates learn how to try a case and practice new skills. For more information about teaching this program in your firm, university, or high school please click here.

The following materials are provided:


Model Syllabi: The faculty version includes three model syllabi for different ways you might use the program:

to teach a law school trial advocacy class (either a 3-unit, 13-week class or a 2-unit, 9-week class)
to run an introductory program for young associates at a firm
to coach a high school, college, or law school mock trial team.
The model syllabi lay out what to cover in each class, including which videos to watch and which drills to prepare.
Video lectures and transcripts: The lectures range in length from 4 to 20 minutes. Transcripts of the videos are included with timestamps to make it easy to rewatch as needed.
Fact patterns: Included are both civil (Pearson v. Quick-Time Movers, Inc.) and criminal (State v. Bell) fact patterns. All versions of the model syllabi include references to both fact patterns, including evidentiary and advocacy drills for both.
Evidence and Advocacy Drills: Also included are recommended drills that can be done from class to class. For each drill, there is both an instructor version and a student version. The instructor version has commentary designed to help you guide students through the drills by laying out the issues focused on in the drills and provides topics for discussion.
Also included are suggested readings from
The Elements of Trial
.
Call 1-800-309-6845 or email sales@trialguides.com to arrange discounts for your students or new associates.
The presenters would also like to note a special thanks to senior contributor Nicholas Cotter who provided editorial and creative contributions.
On Demand Program: 258 minutes
Original Air Date: 12/14/2020