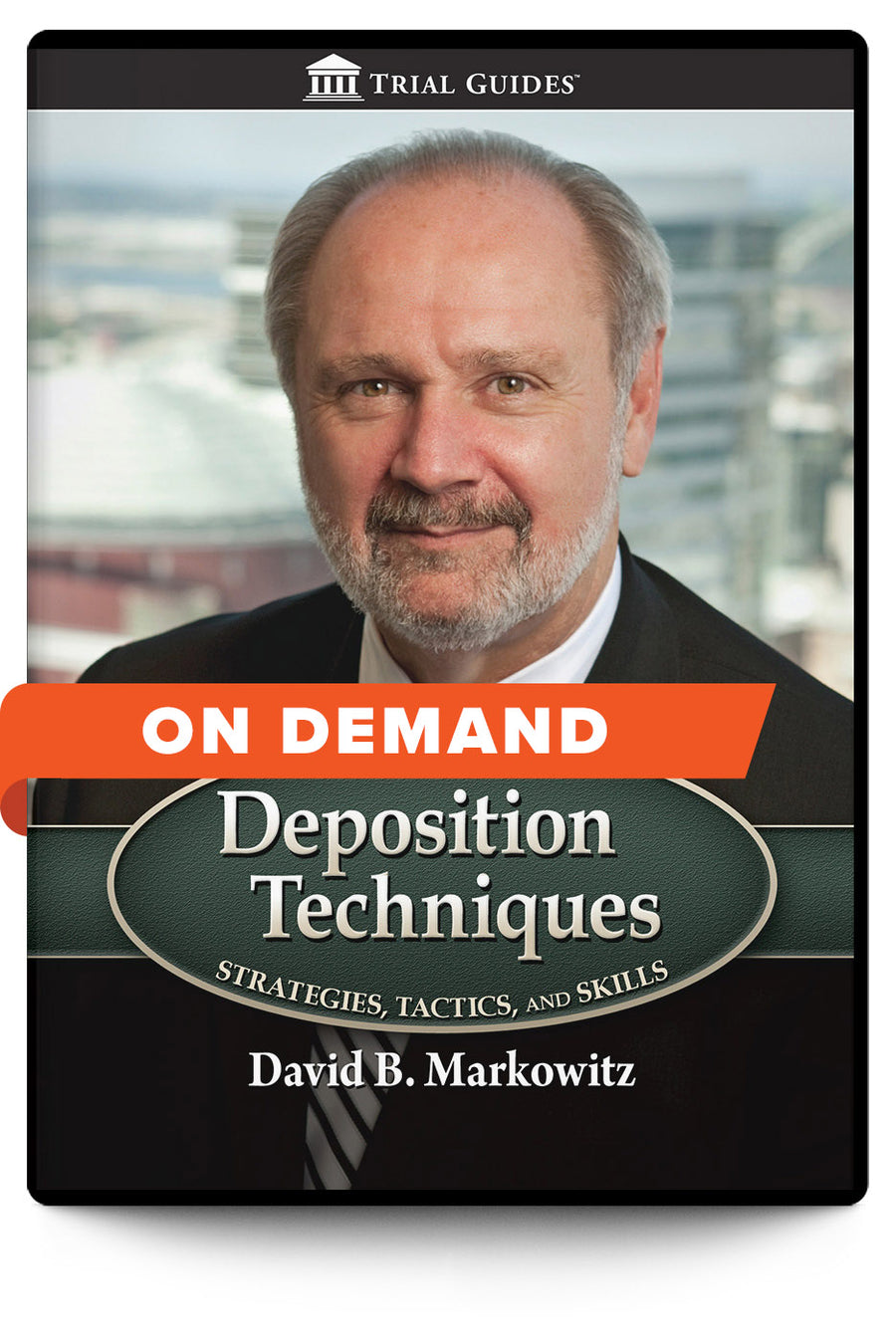 Click here for Access Instructions for On Demand Programs.
Each user must register individually as they will need their own login to access the program.
Depositions can make or break your case, and this is your chance to learn from a master. This is an excellent Deposition CLE for new lawyers and experienced lawyers.
For over thirty years, David Markowitz has been studying deposition and trial techniques and has presented dozens of seminars to improve the skills of practicing attorneys. One of the nation's leading corporate litigators, he is widely recognized as a leading authorities in deposition techniques. In this deposition CLE, David shares important goals to accomplish in depositions. Learn the value of question structure and how to deal with evasive and incomplete answers. This deposition CLE video will also cover the most important questions and techniques the best lawyers use, plus a key component of any deposition: knowing when to stop asking questions.
David demonstrates powerful and practical methods for getting the most out of your depositions, including the best ways to defend depositions and effectively use depositions at trial. Whether you are new to trial practice or want to refresh your deposition skills, this presentation by a litigation icon is an opportunity not to be missed.
This Deposition CLE tackles the following topics:
Determining goals and objectives
Accomplishing desired results
How to ask questions effectively
Using the correct question structure
Dealing with evasive and incomplete answers
Formulating tough and thorough questions
Effectively ordering questions
Big questions—if, how, and when to ask them
Dealing with problem witnesses (lying witnesses, witnesses who can't remember, and witnesses who exaggerate)
Style and Demeanor
Defending depositions
Predeposition meetings with witnesses
Teaching your client how to be a terrific deposition witness
Protecting your client during depositions—including proper objections
Overcoming objections
Dealing with instructions not to answer
On Demand Program: 366 minutes