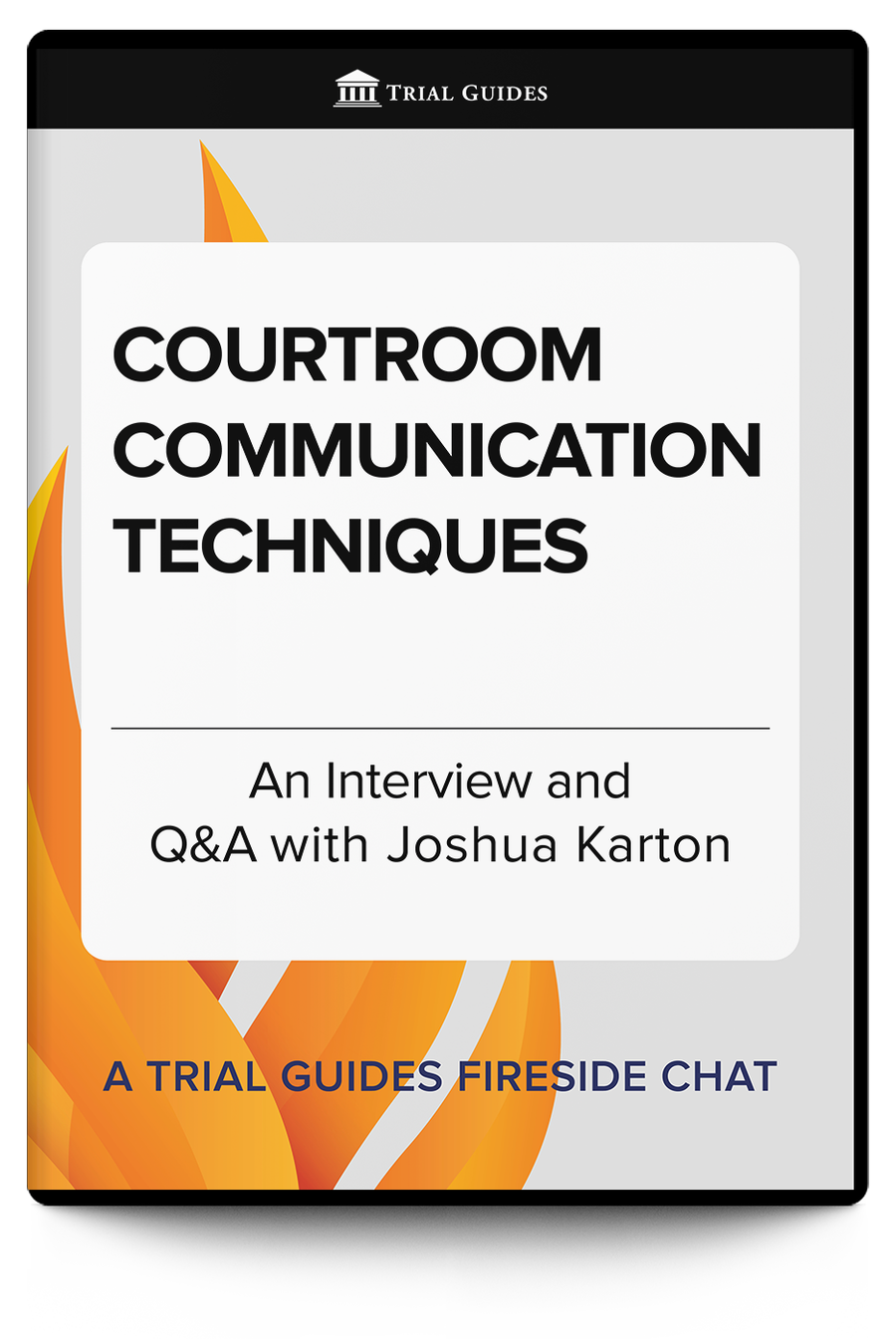 Please Note: This product is only offered as an Audiobook. You can access your audiobooks through theTrial Guides App for Lawyers button on your account page.
Click here for further information on Audiobooks
In this interview, Joshua Kartion, nationally renowned trial consultant and co-author of Theater for Trial, discusses how lawyers can improve their performance in the courtroom. As a trial consultant, Karton has spent decades working with expert witnesses, trial attorneys, and anyone else who speaks in a courtroom in a range of cases from local county venues to the Supreme Court.
Karton discusses how both theater and trial are live human events where everyone who is involved has a significant role that cannot be duplicated. When it comes to jury selection, an attorney's challenge is to form a collaborative relationship with people they've just met who hold ultimate power. While there is no single way to build that trust, finding something to respect about each juror will help you convey that you respect their right to have their beliefs. When the jurors respond to your questions, you need to behave as if their answers matter to you. Karton also addresses tips for effectively communicating to jurors without dumbing down arguments will help create this communicative relationship, offering simple examples like speaking as if you're talking to a family member rather than a law school professor. Karton also discusses the importance of taking time to work with and prepare, expert witnesses so they know what to expect during cross-examination, and how it will help them withstand the defense's assault and improve your case.
Throughout this program, Karton shares strategies on:
How to craft your opening statement so you can unfurl your story in an effective way

Being selective with the information the jurors need to hear versus the information you want them to know

Why using the present tense is best

How to "stand in it" with your client

Why you shouldn't read your opening and closing

statements

to the jury

How playing can help you be a better lawyer
After the interview, Karton answers listener questions on a variety of topics, including:
When working with a jury, would you use a visual example of profanity?

Vocal warm

up techniques

Recommendations for coping with stage fright

How to practice connecting with jurors through eye contact

The use of PowerPoint in trial

What's the best way to dramatically construct your opening statement?

Where to begin the story

The use of suspense and omission during opening statement

The role

Karton play

s

when working with a trial lawyer on a specific case

How to address the racial and ethnic background of a plaintiff when asking for compensation for the loss of a loved one in a predominantly white, conservative jurisdiction

Which elements of theater and film to avoid in trial

What trial lawyers can learn from how Spence tries cases
Learning to communicate effectively with different people is essential for a successful trial lawyer. Karton offers learnable tactics that will help better your relationships in the courtroom and improve your case outcomes.
*This interview was originally offered to customers as part of our Trial Guides LIVE Fireside Chat series. The content has been remastered and edited for brevity and clarity.
Audio Digital Download: 120 minutes; 1st edition (2021)
Publisher: Trial Guides, LLC