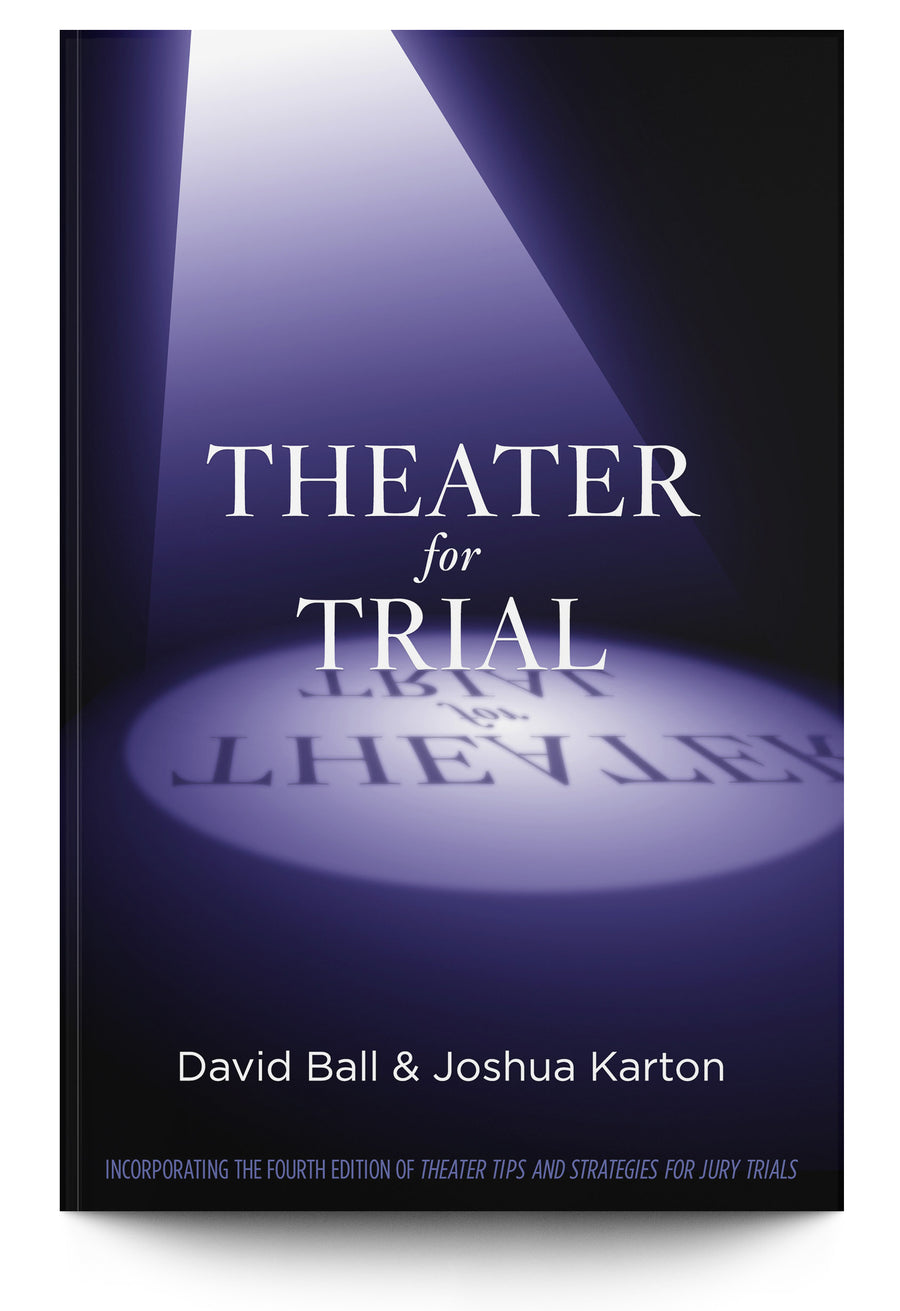 In Theater for Trial, David Ball and Joshua Karton use their extensive professional theater experience to give you practical exercises and strategies for connecting yourself, your case, and your witnesses with the jury. They provide tools available to any attorney—such as voice, presentation, and story structure—and show how to empower juries to take responsibility for righting a wrong. This book teaches you how to turn every trial into a powerful production that authentically calls forth your best asset: the simple truth, clearly and effectively communicated.
Ball and Karton also teach you how to arm jurors to fight for you in deliberations. They offer techniques to improve how you prepare witnesses, create exhibits, present your client, select jurors, and conduct yourself in ways that frame the facts and the law to best engage your audience: the jury. Ball and Karton combine decades of intensive trial experience with cases from the smallest counties to the halls of the Supreme Court, with lessons from the stage and screen to optimize every moment you're in trial.
Hardcover: 400 pages; First edition (2017); ISBN: 978-1941007716
Publisher: Trial Guides, LLC
Author's Note from David Ball
Typography Note
Publisher's Note
Foreword to the Fourth Edition
Acknowledgments
Introduction
Curtain Raiser
How You Talk: The Sound of Your Voice
How You Talk: Words
How You Talk: Sentences and Beyond
How You Look
What You Do
Cast Your Best Self
Story
Casting the Jury
Rehearsal
Opening Statement
Arming the Jurors Throughout Trial
Audience Skills
Direct and Cross
Closing—A Reorientation
Appendix A: Your Trial Team
Appendix B: Demonstrative Exhibits
Appendix C: HEIDI
Appendix D: Secrets
Appendix E: The Song Exercise
Appendix F: Zen and the Art of Trial Advocacy
Index
About the Authors
What Legal Leaders Are Saying
A modern human's greatest terror is not snakes or plane crashes, but public speaking. The advice contained in Josh Karton and David Ball's extraordinary collaboration helps you go from terror to triumph in the courtroom. By studying the techniques actors have known since ancient times, you will become comfortable enough to become your authentic self before the jury.
— Randi McGinn, past president of the Inner Circle of Advocates, author of
Changing Laws, Saving Lives