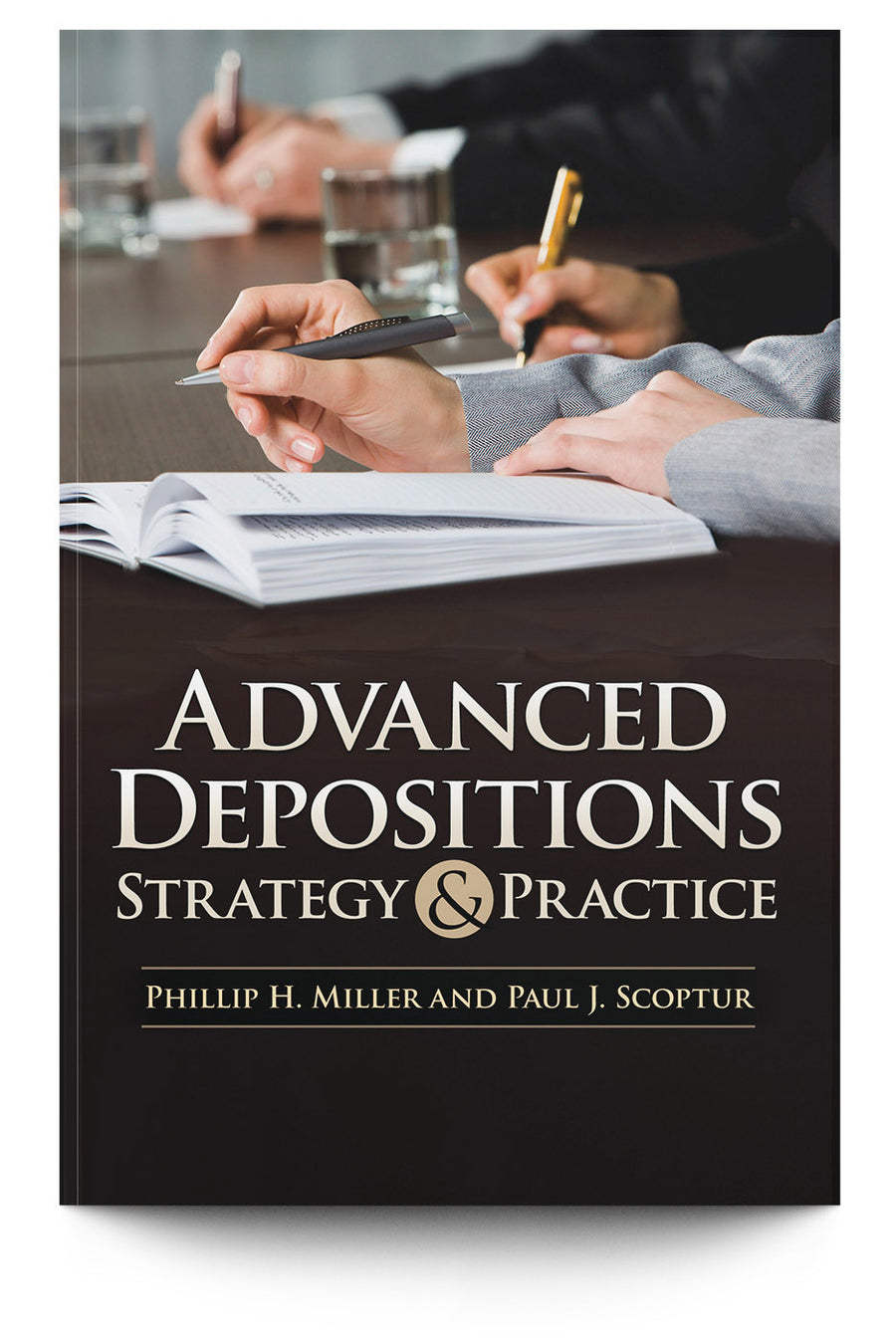 Authors Phillip Miller and Paul Scoptur, contributors and course advisors for the American Association for Justice (formerly the Association of Trial Lawyers of America [ATLA®]) Advanced Depositions College, bring you a comprehensive book on depositions.

A successful deposition is the direct result of thoughtful planning and preparation. In Advanced Depositions Strategy and Practice, Miller and Scoptur reveal proven tactics for how to elicit the information you need to support your case theory and craft a cohesive, convincing trial theme.
The authors provide techniques for a focused case analysis and show you how to effectively navigate through the obstacles you will encounter during depositions. In addition to strategy, this book provides a wealth of specific examples from real case depositions. You will learn how to:
Nail down case-critical facts
Decide on questioning approaches
Use juror attitudes and beliefs to your advantage
Obtain all useful information from each deponent
Maintain control of each witness's testimony
Handle evasive, hostile, uncooperative, opposing, and expert witnesses
Paperback: 360 pages; 1st editon (2013); ISBN: 978-1934833827
Publisher: Trial Guides, LLC; AAJ
Publisher's Note
Acknowledgments
Introduction


Understanding Juror Attitudes and Beliefs
Develop a Deposition Plan
Open-Ended Questions and Exhaustion
Estimating Dates, Distances, Time, or Measurement
Restating and Summarizing
Boxing In
Establishing Rules, Principles, and Standards through Defense Witnesses
Expert Depositions
Deposing the Defense Medical Examiner
Dealing with Evasive Witnesses
Focus Groups and Strategic Case Planning
Innovative Approaches to Depositions
Lawyer Conduct during Depositions


Epilogue: The Finish Line
Appendix A: Trucking 30 (b)(6) Deposition Outline
Appendix B: Nursing Home 30(b)(6) Deposition Outline
Appendix C: One Fact, One Question
Appendix D: Transcripts Using the Drivers Manual and Rules of the Road Method
Appendix E: Medical Literature to Use at Deposition
Appendix F: Applicable Federal Rules
Bibliography
Index
About the Authors
Also included with book: DVD
What Legal Leaders Are Saying
No one in America understands and teaches techniques for depositions that devastate defenses better than Miller and Scoptur—no one.
— Jim Lees, member of the American Association for Justice and West Virginia Trial Lawyers Association