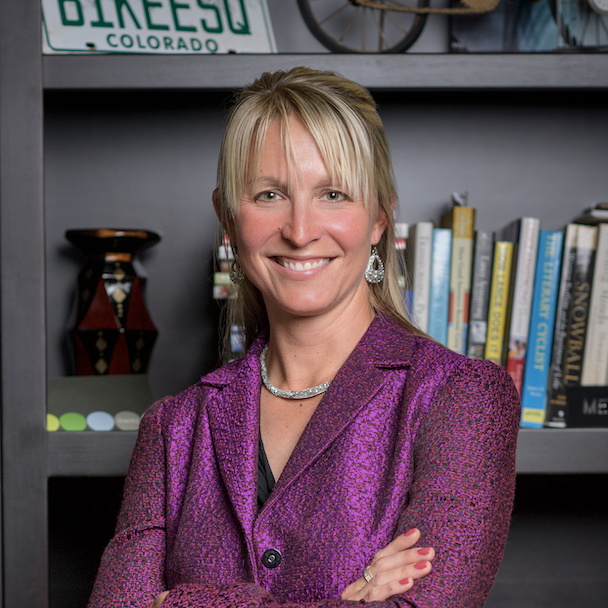 Megan Hottman
Trial Lawyer
Hottman Law Office

1211 Avery Street, Suite 103
Golden CO
80403

Work 303-273-LAWS (5297)
Fax 866-590-2837
Key Facts
Biography
Megan M. Hottman, attorney and founder of Hottman Law Office in Golden, Colorado (Est. 2010), specializes in representing injured bicyclists and is a recognized expert and advocate in the cycling community. Known as THECyclist-Lawyer.com, Megan has represented over 170 individual cyclists and handles cases nationwide. Megan provides bike law education clinics and classes to cyclists, local bike clubs, and law enforcement personnel. She's known by cyclists and attorneys nationwide as the cycling case expert and frequently consults with other attorneys on their cycling cases.
Megan was featured for her work in cycling cases by both Outside Magazine and HBO Real Sports (Bryant Gumbel) in 2015. She has authored countless articles and also co-authored a cycling-law resource book called Bicycle Accidents, Crashes & Collisions: Biomechanical, Engineering, and Legal Aspects (you can find it on Amazon). In early 2023, a global bike documentary titled "The Engine Inside" will be released by Anthill Films, in which Megan is one of the featured cyclist stories.
A former-elite road and track cyclist for many years, Megan went on to compete in cyclocross and gravel races before dabbling in triathlon, completing three Ironman events. These days she enjoys mountain biking, bike packing, gravel racing, endurance running, and self-paced endeavors like riding the White Rim in a day or biking with her dogs from Golden to Colorado Springs. She commutes almost everywhere by bike and incorporates some aspect of health, wellness, or sport into every day. Sitting is the new smoking, she frequently says, and #ridemoredriveless is her mantra.
In 2018 she reached her goal of riding 10,000 bike miles in one year, and in 2019 she led a group of 25 cyclists in breaking the World Record for "longest static cycling class" while raising money for People for Bikes. 2020 brought about a much-needed mental and physical reset from racing given the pandemic; during that time she bought a camper van and commenced #vanlife, literally #WFA (working from anywhere).
As of late 2022, Megan is recovering from a crash – yes, the worst day happened in June 2022 when she was involved in a collision caused by a negligent motorist, while she was riding her bike. The resulting injuries and surgeries have taken her away from many of the things she loves doing but the experience has also amplified her sense of gratitude, as in those moments just before impact she wasn't sure there would be a "tomorrow."
Taking that newfound lease on life and FULLY going for it, Megan is working on her second book, enjoys working with her coaching clients and doing frequent public speaking. Megan coaches other lawyers and helps them live lives by design, on purpose, with HELL YES as a guiding principle. She also loves being on stage delivering speeches to large audiences and her topics range from law to health to substance abuse and more.
You can find her via her website -- MeganHottman.com -- to learn more.