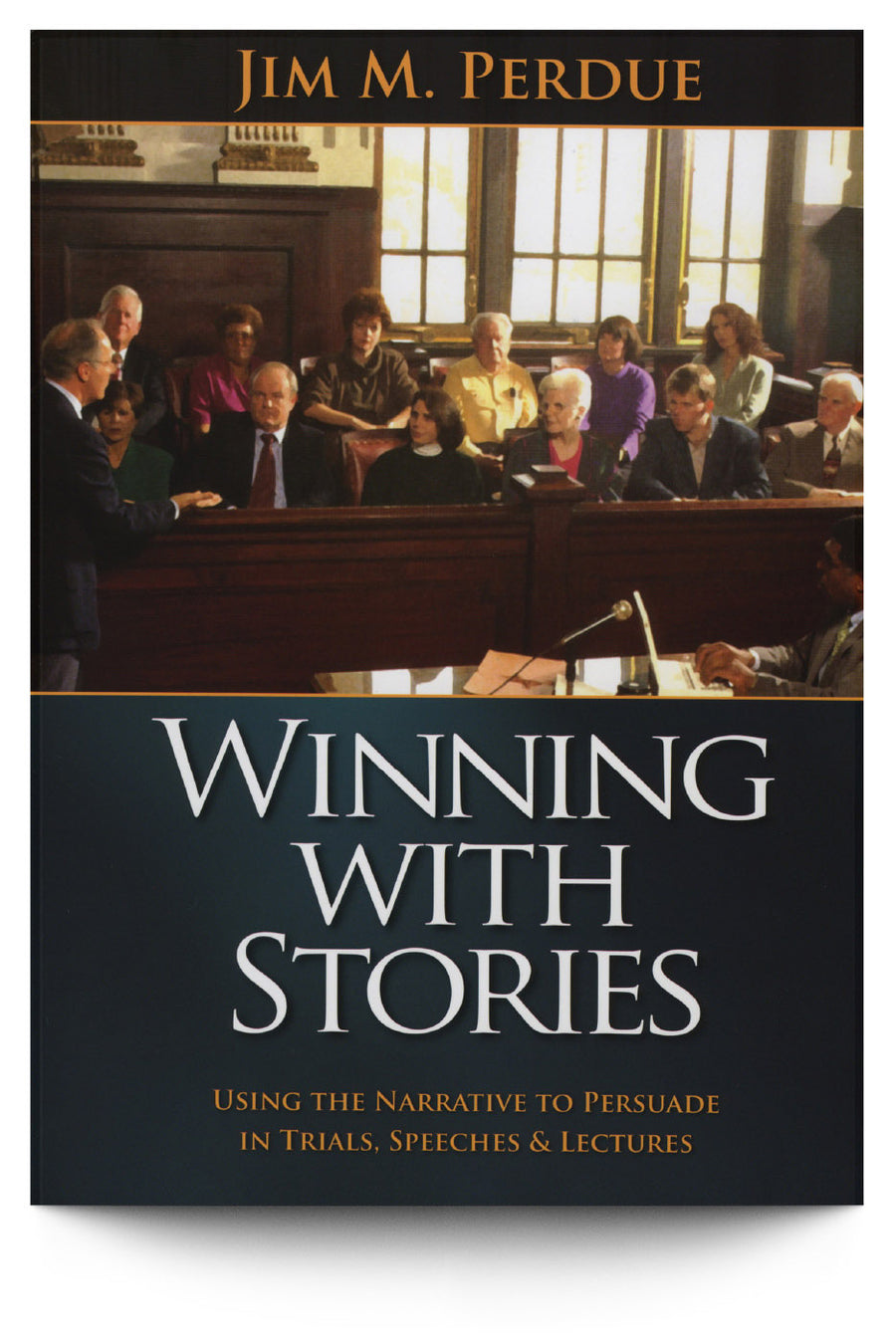 "Once upon a time ..."
So begins Winning with Stories: Using the Narrative to Persuade in Trials, Speeches and Lectures, an examination of the power of the story in the art of persuasion. In this eminently readable work of sound scholarship, author Jim M. Perdue proves that the story, as our primary vehicle for learning and teaching, is as valid today as it was to our ancient ancestors. "Stories reaffirm our belief that our institutions exist as solutions to problems," writes Perdue. "Stories deny the proposition that life can only admit to hopelessness and uncertainty. Since the beginning of time, narratives have carried the truths of hope and justice."
Beginning with an exploration of the story concept, Perdue analyzes narrative elements in detail, showing how to craft a story with a strong beginning, memorable scenes, believable characters, a logical plot, vivid action, and a moving conclusion. Going beyond these basics, Perdue demonstrates how to tell the story to maximum effect, with attention to concepts as broad as giving "soul" to the story and as specific as what the speaker should wear. Perdue covers mannerisms, physical movement, use of illustrative visuals, and other storytelling considerations in detail. The author gives generously of his more than forty years of courtroom experience to show novice and veteran lawyers alike how to tell a powerful story to motivate an audience.
Far more than a practical analysis of storytelling, Winning with Stories is also an invaluable anthology of stories that speakers can use to make and illustrate a point. Perdue includes abundant examples of useful labels, metaphors, similes, clichés, analogies, quotations, poetry, personal anecdotes, and humorous stories. He traces them to their roots in ancient and modern history, the Bible, children's tales, books, movies, plays, and folklore. Rounding out these invaluable resources are illustrative examples of actual opening statements and closing arguments the author has used to inspire juries to a just verdict.
Like Perdue's previous books, Winning with Stories will be an indispensable reference for the trial lawyer seeking more effective persuasion techniques and an invaluable tool for lecturers, ministers, and teachers—anyone who studies or practices the art of persuasion.
Hardcover: 602 pages; 1st edition (2006); ISBN: 978-1892542229
Publisher: State Bar of Texas
Letter from the President of the State Bar of Texas
Preface
Acknowledgments
Part 1: The Story Concept
The Power of the Story
Why a Story?
Part 2: Crafting A Story
The Strong Begining
Setting the Scene
Developing Strong Characters
Presenting a Compelling Plot
Let the Audience Live the Action
Choosing a Cognitive Theme
Negating the Negatives
Complete the Circle with a Strong Ending
Part 3: Telling The Story
The Power of the Person
The Power of the Telling
The Power of the Sequence
The Power of the Pictures
The Power of the Story from Adverse Witnesses: Cross-Examination Storytelling
Part 4: Our Values
The Source of the Trial Lawyer's Values and Beliefs
Consider Your Audience
Inspiring with Your Trial Story
Part 5: Stories Within Stories
Labels
Metaphors
Similes and Cliches
Analogies
Quotations
Poetry
Anecdotes and Humorous Stories
Part 6: Courtroom Stories
Illustrative Opening Statement: Truck-Auto Collision Kills Plaintiff's Son
Illustrative Opening Statement: Premises-Unsafe Ladder
Illustrative Closing Summation: Baby Brain Damaged at Birth Due to Obstetrical Nursing Negligence
Illustrative Closing Summation: Pathology Mistake Leaves Woman Disfigured
Illustrative Closing Summation: Anesthesia Misadventure Kills husband
Notes
Bibliography
Story Morals Index
Name and Title Index
Subject Index
What Legal Leaders Are Saying
Jim M. Perdue has put on paper what makes him a courtroom legend. This is the best guide yet on how to persuade judges and juries. Read it, study it, follow its step-by-step approach, and you are guaranteed to become a better trial lawyer.
— Peter T. Hoffman, director of the Blakely Advocacy Institute, University of Houston Law Center