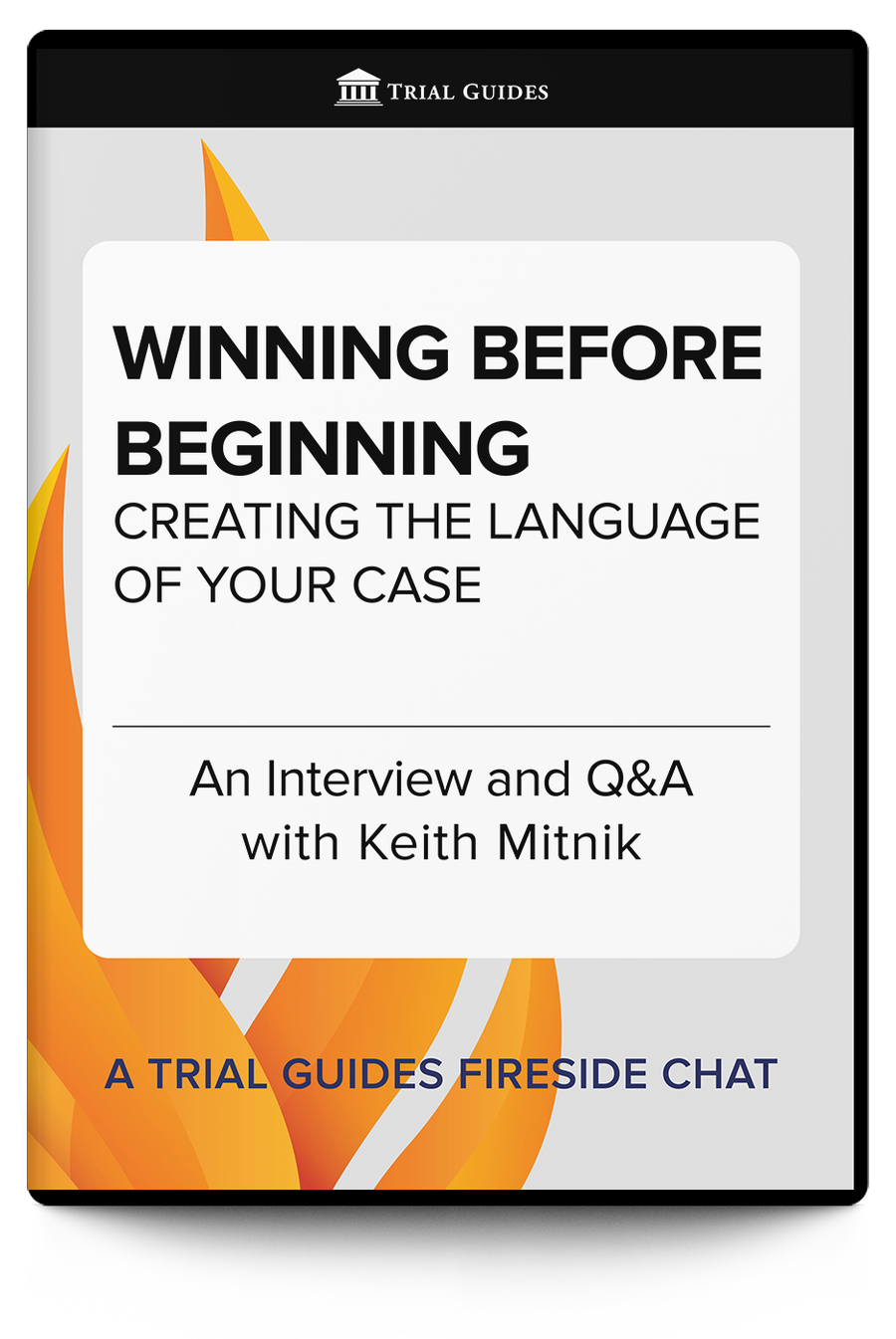 Please Note: This product is only offered as an Audiobook. You can access your audiobooks through the Kitaboo eBooks and Audiobooks button on your account page.
Click here for further information on Audiobooks
In this 110 minute interview and Q&A with Keith Mitnik, the author of Don't Eat the Bruises and senior trial counsel for Morgan & Morgan, shares the pretrial strategies he uses to help win cases before he even steps into a courtroom.
Expanding upon material he discusses in Winning at the Beginning, Mitnik argues that choosing specific, impactful words to use throughout trial illuminates your argument and gives your case a powerful foundation the jury will remember and continuously come back to.
Mitnik discusses how to highlight the key points of conflict within your case that show why you're right and the defense is wrong. He explains the necessary steps to this process:
Pick the perfect words and key phrases

Resurrect recognizable phrases that will make major points in your lawsuit

Craft winning questions
Mitnik provides anecdotal evidence from various auto accident and medical malpractice cases where a simple turn of phrase or the addition or omission of a word made his argument stronger. If you learn to anticipate what the defense is going to say, you can redirect the jury's attention and give them the arguments they will need to fight for your client during deliberations.
Over the course of the interview, Mitnik suggests ways to research, prepare, and organize these ideas before your trial begins.
And in the follow-up Q&A, listeners ask Mitnik questions on a variety of topics:
Alternatives for the phrase, "normal aging process"

Navigating trial issues around letters of protection

How to weave keywords into your discovery responses or answers

Utilizing these words during the pretrial

Resources for trial tactics

Language suggestions for specific cases

Advice on dealing with immigration bias

Do adjusters benefit from word selection in negotiations?

Explaining preponderance of the evidence
In the courtroom, decisions are often made quickly. By learning and implementing Mitnik's strategic advice, you can increase your confidence and make it easier to navigate the courtroom regardless of how much trial experience you have.
*This interview was originally offered to customers as part of our Trial Guides LIVE Fireside Chat series. The content has been remastered and edited for brevity and clarity.
Audio Digital Download: 110 minutes; 1st edition (2021)
Publisher: Trial Guides, LLC