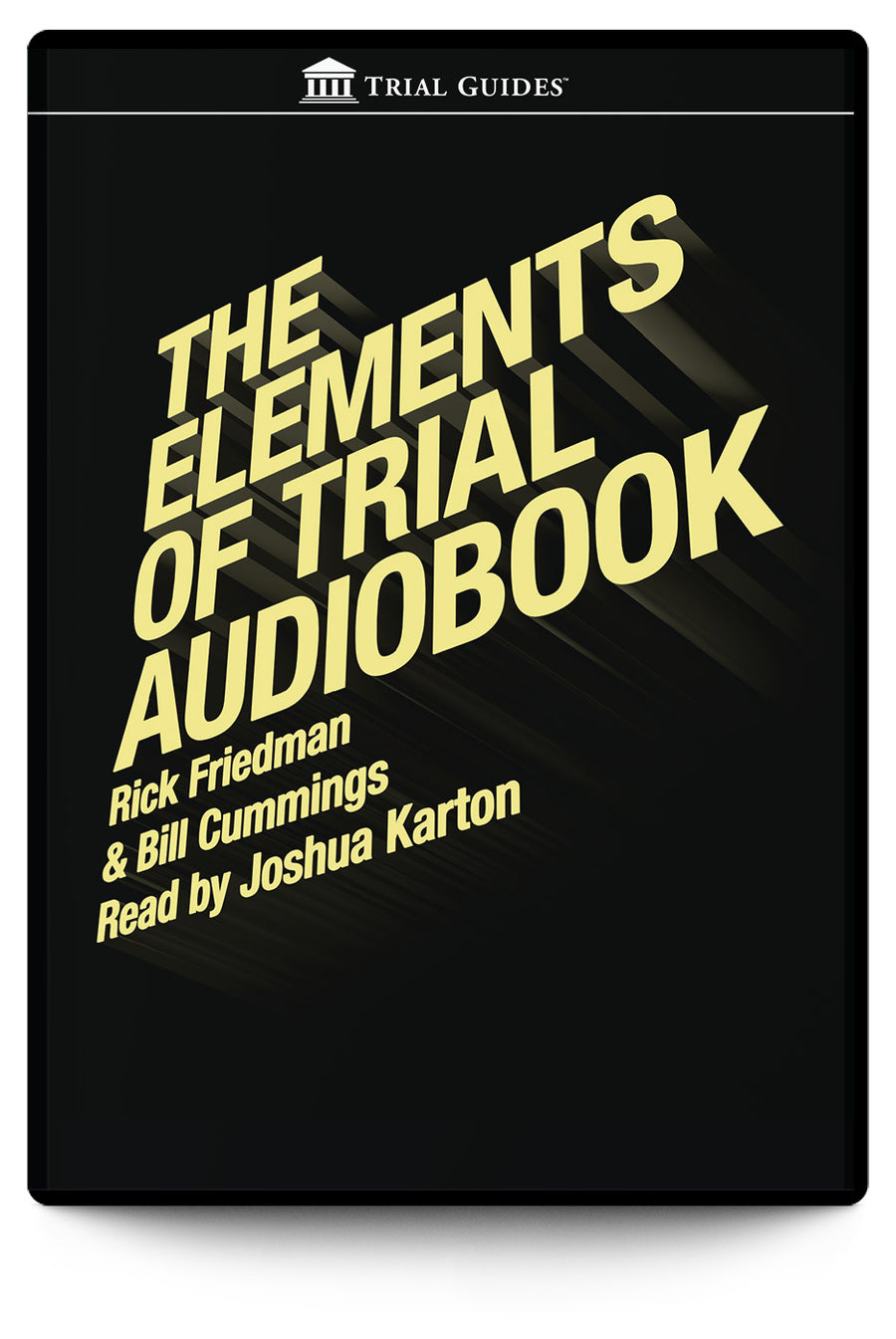 Please Note: If you choose the Audiobook option, you can access it through the Kitaboo eBooks and Audiobooks button on your account page.
Click here for further information on Audiobooks
One of America's leading litigators, and Trial Guides' bestselling author, Rick Friedman brings you the first practical text on the fundamental skills you need to know when handling a trial. With trial experience increasingly rare, The Elements of Trial provides a concise guide for law professors, law students, and every lawyer preparing for trial.
This book offers invaluable advice on the following aspects of trial:
Investigating your case
Interviewing and preparing witnesses
Organizing trial notebooks, discovery information, trial briefs, and exhibits
Creating a theme
Choosing or drafting jury instructions
Asking questions of the court clerk and judicial assistant
Framing your case-in-chief
Filing motions in limine
Pretrial hearings
Making objections and understanding juror perceptions about the use of objections in trial
Bench conferences
Moving exhibits into evidence
Voir dire (including your purpose beyond cause and peremptory challenges)
Opening statement (structure, themes, establishing credibility, and what you should never do)
Direct examination
Cross-examination (constructive and destructive)
Making a record
Directed verdict/motion for judgment as a matter of law
Rebuttal case
Charging conference
Closing argument
Taking the verdict and polling the jury
Posttrial motions
Your impact on the trial
The book also explains the applicable law related to each part of trial and offers ways to effectively implement the techniques and methods that Friedman and Cummings present.
This audiobook is read by Joshua Karton. As a legal consultant, Mr. Karton serves on the faculty and develops curriculum for leading plaintiff and defender associations, including AAJ and NACDL, as well as for NITA, ABA, and various law schools. He has been an instructor at Gerry Spence's Trial Lawyers College in Wyoming since its inception, prepared the oral presentation of successful cases before the U.S. Supreme Court, and piloted the Advanced Trial Advocacy Course for the JAG Corps. Outside the legal field, Mr. Karton served on the faculty of the School of Theater at the University of Southern California, and his students include recipients of Oscars™ and Emmys™. As the owner of Communication Arts for the Professional in Santa Monica, California, he maintains a professional practice of individual case consultation and witness preparation.


CD: 601 minutes; 6 discs; 1st edition (2014); ISBN: 978-1941007174
Publisher: Trial Guides, LLC
Disc 1 [53:06]
Title
Introduction
Overview
Jury Instructions
Investigation
Disc 2 [64:57]
Fighting Chaos
Assessing Your Case-in-Chief
Trial Briefs and Motions In Limine
The Pretrial Hearing
Disc 3 [57:30]
Jury Selection (Voir Dire)
Opening Statement
Disc 4 [62:50]
Presenting Your Case-in-Chief
Cross-Examination
Disc 5 [73:16]
Making a Record
Directed Verdict
Rebuttal Case
The Charging Conference
Closing Arguments
Disc 6 [47:38]
Jury Questions and Taking the Verdict
Posttrial Motions
You
Conclusion
Suggested Reading
Publisher's Note
End
Total running time: 10 hours, 1 minute
What Legal Leaders Are Saying
From all that law-school stuff, this nifty book distills the essentials (and adds to them) that new trial attorneys need before their first cases begin. A clear, concise checklist organized for every stage of trial, and quickly read, Friedman and Cummings's fundamentals and wisdoms start new lawyers off in the right direction and help keep them there. I suggest a triple reading before your first case and thorough reviews before your next half dozen. You'll learn how to be professional when you'd otherwise still be an amateur.
— David Ball, author of
David Ball on Damages 3
and
Reptile