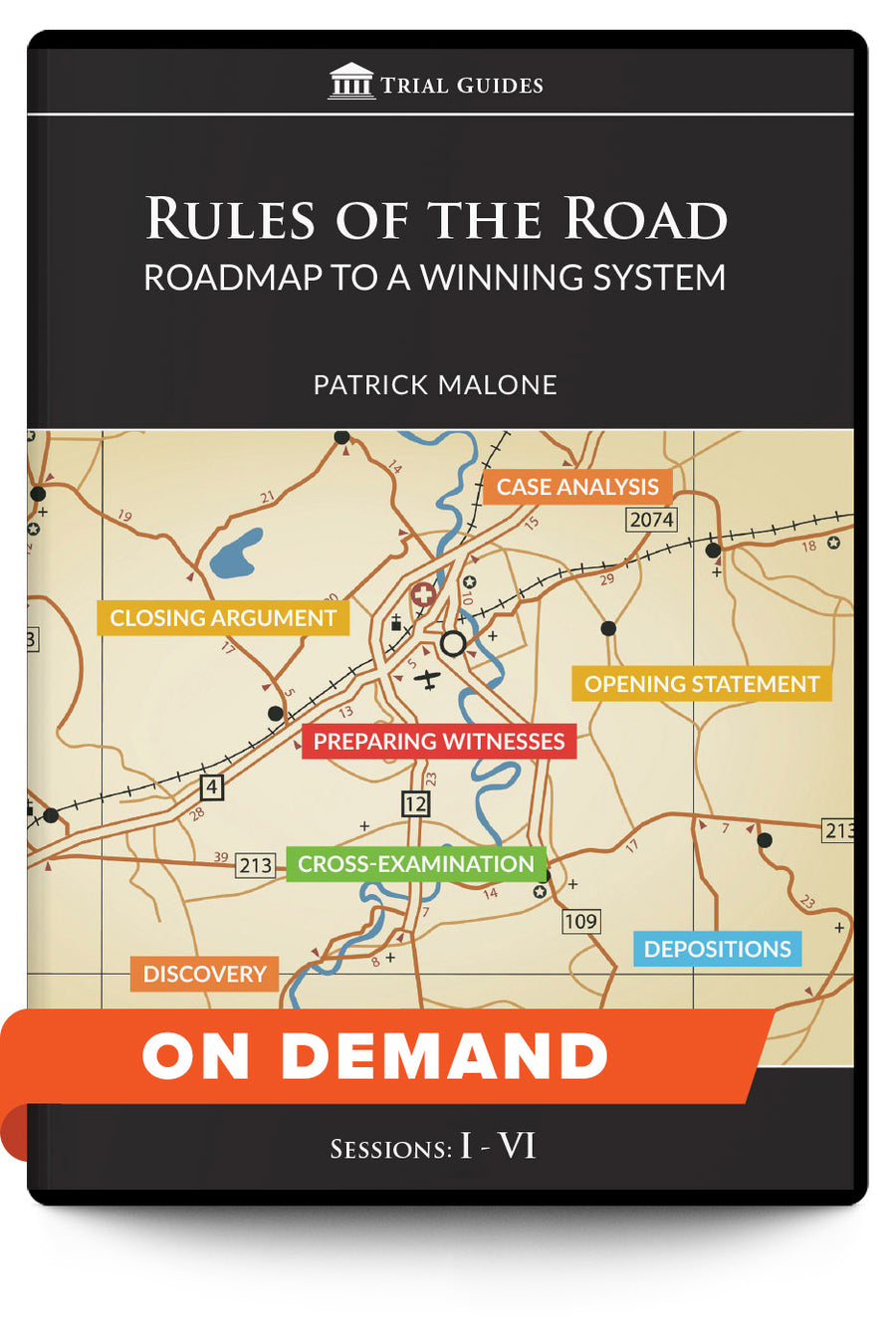 Click here for Access Instructions for On Demand Programs
Each user must register individually as they will need their own login to access the program
Rules of the Road Series (6 Sessions, I-VI) from Trial Guides on Vimeo.
All 6 Sessions of Rules of the Road (6 Session Series)
In Rules of the Road Series, Rules of the Road coauthor Patrick Malone, joined by guest speakers Mark Kosieradzki and Louise Lipman, provides comprehensive tools that enable you to use to use the Rules of the Road method to strengthen the following aspects of your case:
Initial case analysis
Shaping and framing your argument
Structuring and conveying your case's story during trial
Taking depositions and utilizing the power of 30(b)(6) depositions
Essential post deposition steps
Cross-examination and dealing with adverse witnesses
Preparing witnesses
Using psychodrama to improve your case
Discussing damages in closing
Bookending your case with an effective opening statement and closing argument
Patrick Malone leads you through over seven hours of content, including cross-examination examples, guest presentations, lecture notes, sample ideas on opening and closing, and a host of additional online materials. Whether it's medical malpractice, premises liability, or pharmaceutical liability, you'll find that there's a way for the right Rules to help you argue and win any case.
Also included are the lecture materials which provide a wealth of information on expanding your use of the Rules of the Road method.
On Demand Program: 466 minutes
What Legal Leaders Are Saying
I think you should consider it a great compliment that you can assemble a room full of experienced trial lawyers who hang on every word of your wisdom month after month. Your talents are immense. You truly have rethought and revolutionized the way lawyers try cases. Irving Younger is not only turning over in his grave—he may have to rise again from the dead to save the Ten Commandments! You are wonderful to share your giant-slaying techniques with colleagues.
— Pam Stuart, Esq.