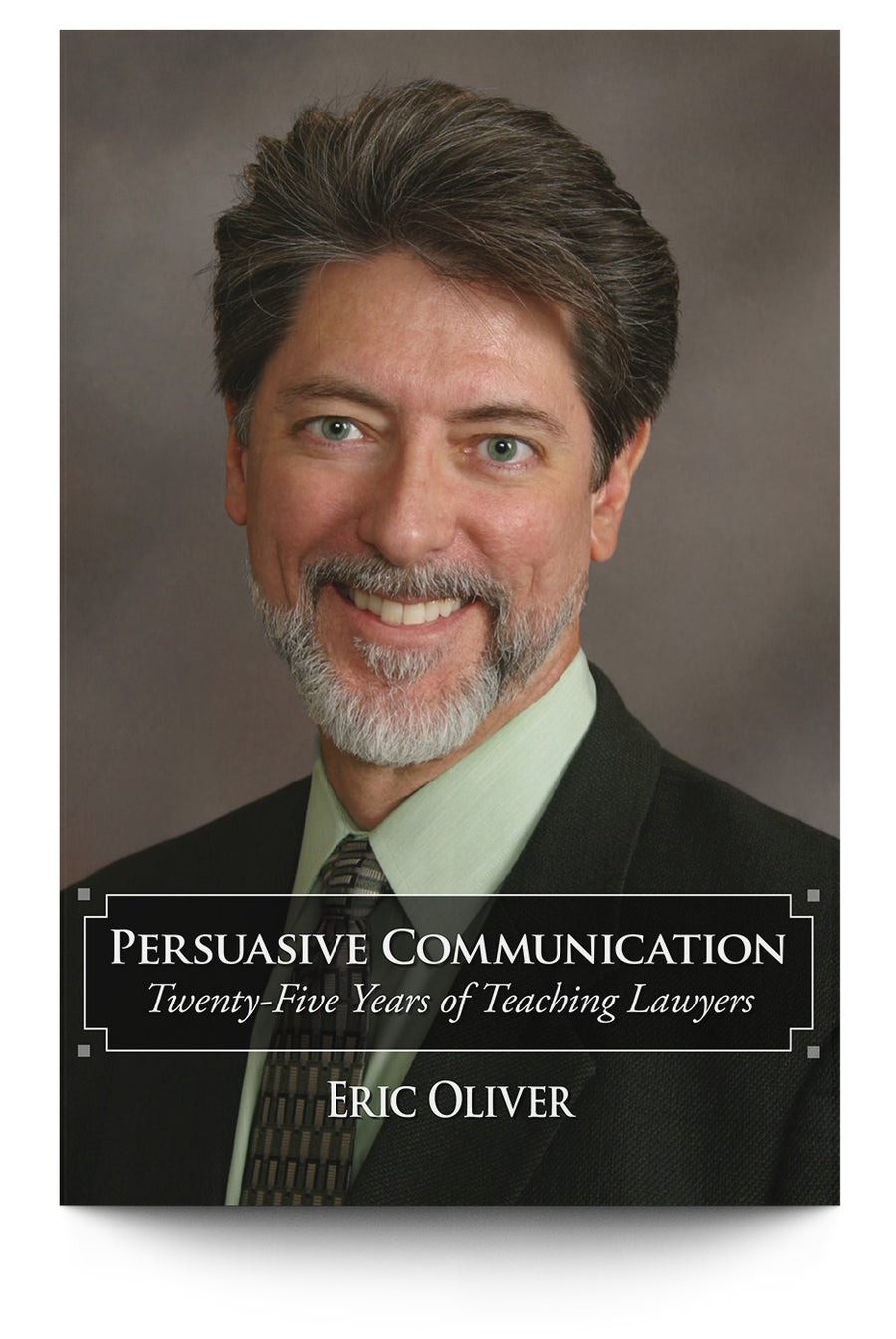 Eric Oliver is a noted trial consultant, speaker and educator who has specialized in verbal, nonverbal, and implicit communication skills for over twenty-eight years—twenty-five working with trial lawyers. This book provides the best of his advice over this career as one of the country's leading trial consultants. In the book, Oliver discusses how trial lawyers can prepare and present more receiver-friendly cases for settlement presentation and in trial. The advice helps lawyers build a presentation plan for each case, which they can adapt to any venue. This presentation plan integrates the verbal, visual, and personal parts of the case story, and is based on the decision-makers needs and expectations. Oliver also discusses how to uncover those expectations in focus groups and voir dire.
Paperback: 520 pages; 1st edition (2009); ISBN: 978-1934833124
Publisher: Trial Guides, LLC
Introduction
Part I: Rapport
Reflections on Mirroring
Brain-friendly Speaking Basics
Is It In Yet?
My World or Yours?
Part II: Stories
Making Sense to Jurors
Tell Me A Story
Embodying the Story
Part III: Decision Making
Is Jury Psychology an Oxymoron
Testing, Testing
Jury See, Jury Decide
Part IV: Persuasion
Things Aren't Always What They Are
That Reminds Me
Anchors and Frames and Themes (Oh My!)
Part V: The Mind
More Than Meets the Ear
More Than Meets the Mind
Part VI: Themes
Developing a Case Theme
What Legal Leaders Are Saying
If I had to choose one word to describe Eric Oliver, it would be 'wise.' His new book, Persuasive Communication, is his masterpiece. It teaches you his unmatched wisdom clearly and comprehensively—as clearly and comprehensively as you will learn to communicate and commune with jurors. This compendium of Eric's lifetime of study, research, guidance, and prevailing over and over and over with juries joins the tiny handful of essential books for trial advocates. Why? Because 'advocate' means 'to speak.' Persuasive Communication rapidly makes you your own master of all the crucial things that happen before, during, and after you speak. Perhaps you should not again open your mouth to speak until you have absorbed Eric's wisdom.
— David Ball, Ph.D., author of
David Ball on Damages
and
Reptile