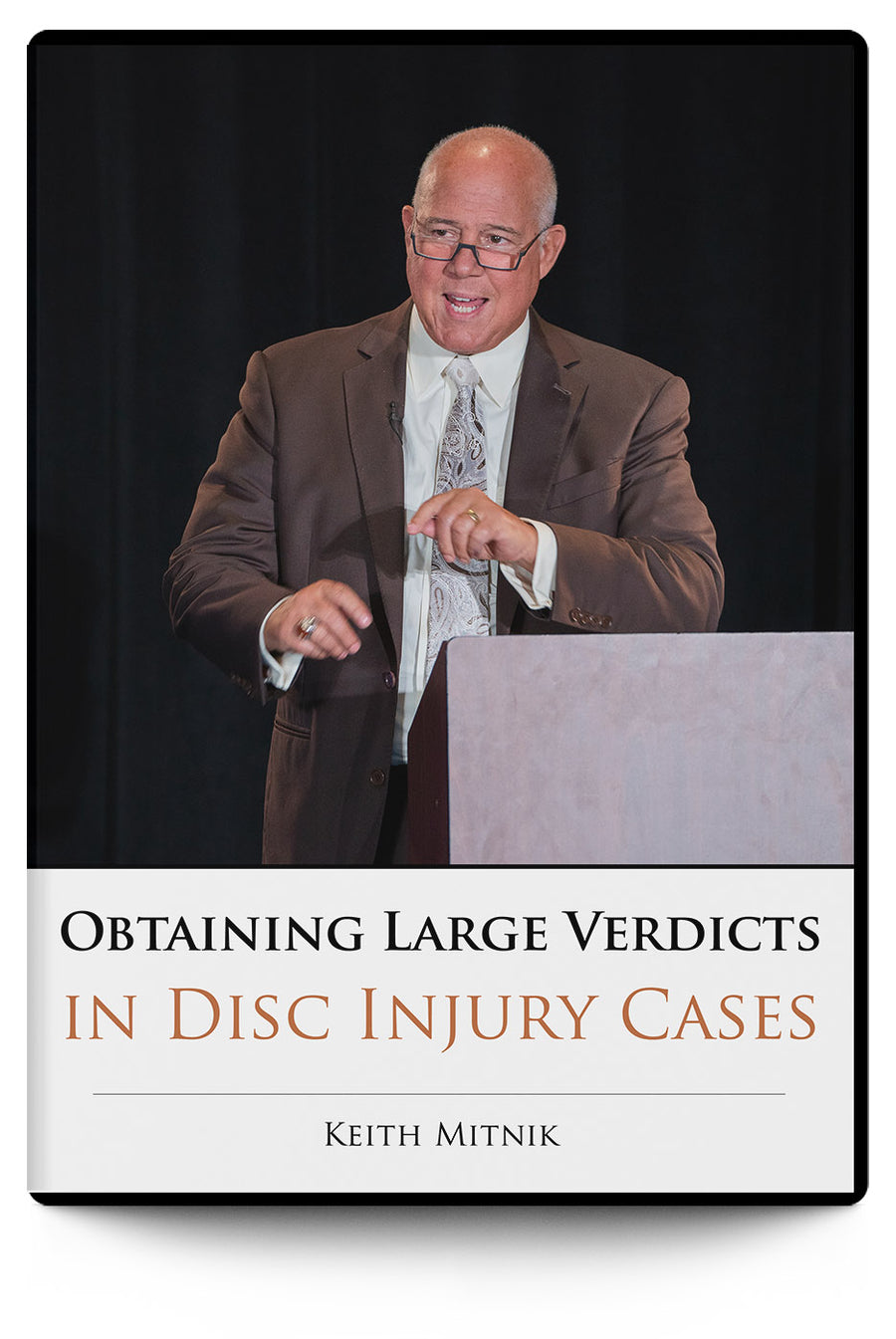 In this presentation, Keith Mitnik, author of Don't Eat the Bruises, addresses a new method that he and his firm use to substantially increase the value of disc injury cases. Their method has proven effective before juries, resulting in multiple million-dollar verdicts in areas where such outcomes would not be expected. In this video, Keith addresses getting over the mental hurdle in seeking damages, reconsidering our expectations of claim value based on other lawyers' outcomes, and the methods he uses during voir dire, opening, cross-examination, and closing to obtain stunning results for his clients. If you handle spine injury cases, this video will empower you to obtain better outcomes for your clients.
*Please note: This video includes highlights from an exclusive live event. Due to copyright and other restrictions, this DVD does not include any written materials from the conference. To learn more about our upcoming CLE events, visit our CLE page or give us a call at 1-800-309-6845.
Obtaining Large Verdicts in Disc Injury Cases from Trial Guides on Vimeo.
DVD: 89 minutes; 1st edition (2019); ISBN: 9781941007983
Publisher: Trial Guides, LLC
Obtaining Million Dollar Verdicts in Disc Injury Cases

The Process: Voir Dire

Ideas for Opening

Discussing Damages

Preventing Problems in Deliberations during Your Closing

Handling Cases Differently for Older Clients

Dealing with Surveillance

Cross-Examining the Defense Medical Witness

Discrediting Defense Medical Witnesses in Opening

Using Analogies for Low-Speed Impact Crash Cases