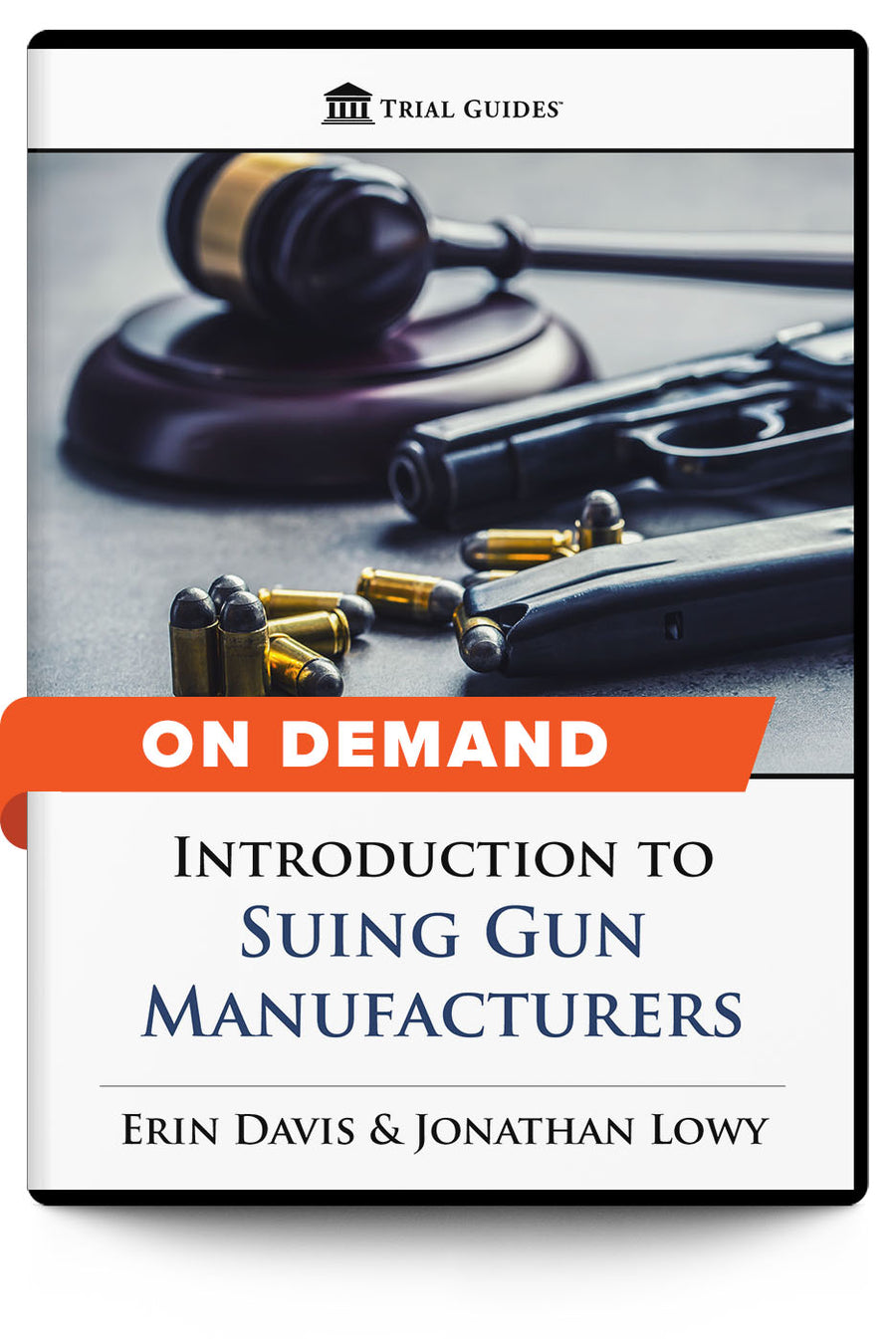 Click here for Access Instructions for On Demand Programs.

Each user must register individually as they will need their own login to access the program.
Working alongside trial lawyers, Brady represents (pro bono) gun violence victims, survivors, and communities in high-impact litigation that aims to reform the gun industry. Brady Legal has brought or assisted in more than 250 lawsuits in over forty states, and has won over $60 million dollars in settlements and verdicts for victims and survivors of gun violence who have been harmed because of negligently sold, designed or marketed guns.
In the first episode of this three-part series, Brady chief counsel Jonathan Lowy and senior counsel Erin Davis teach you how to use your trial skills to sue gun manufacturers. Plaintiff's lawyers are in a unique position to help stem the tide of gun violence through litigation by forcing gun manufacturers to make better product designs and marketing decisions. Jonathan and Erin share the successful strategies Brady has used to overcome the hurdles associated with gun cases. In this ninety-minute program, the pair will address the following topics:
Summary of gun litigation and its importance

Framing a gun case

Gun company responsibility and gun laws

Negligent sales cases

Case selection and fact patterns in potential straw sales case

Proximate cause issues

Products liability and marketing cases

Understanding and overcoming gun industry protection legislation

Surviving the motion to dismiss
For over forty years Brady—named after former White House press secretary James Brady and his wife, Sarah—has been one of the nation's leading gun violence prevention organizations. Since 1989, Brady's legal team has been the nation's only law group dedicated to taking on the gun industry in court for their role in fueling America's gun violence epidemic.
A portion of the proceeds from this program will be donated to Brady United Against Gun Violence.

On Demand Program: 117 minutes plus 16 minutes of Q&A
Original Air Date: 07/24/2020