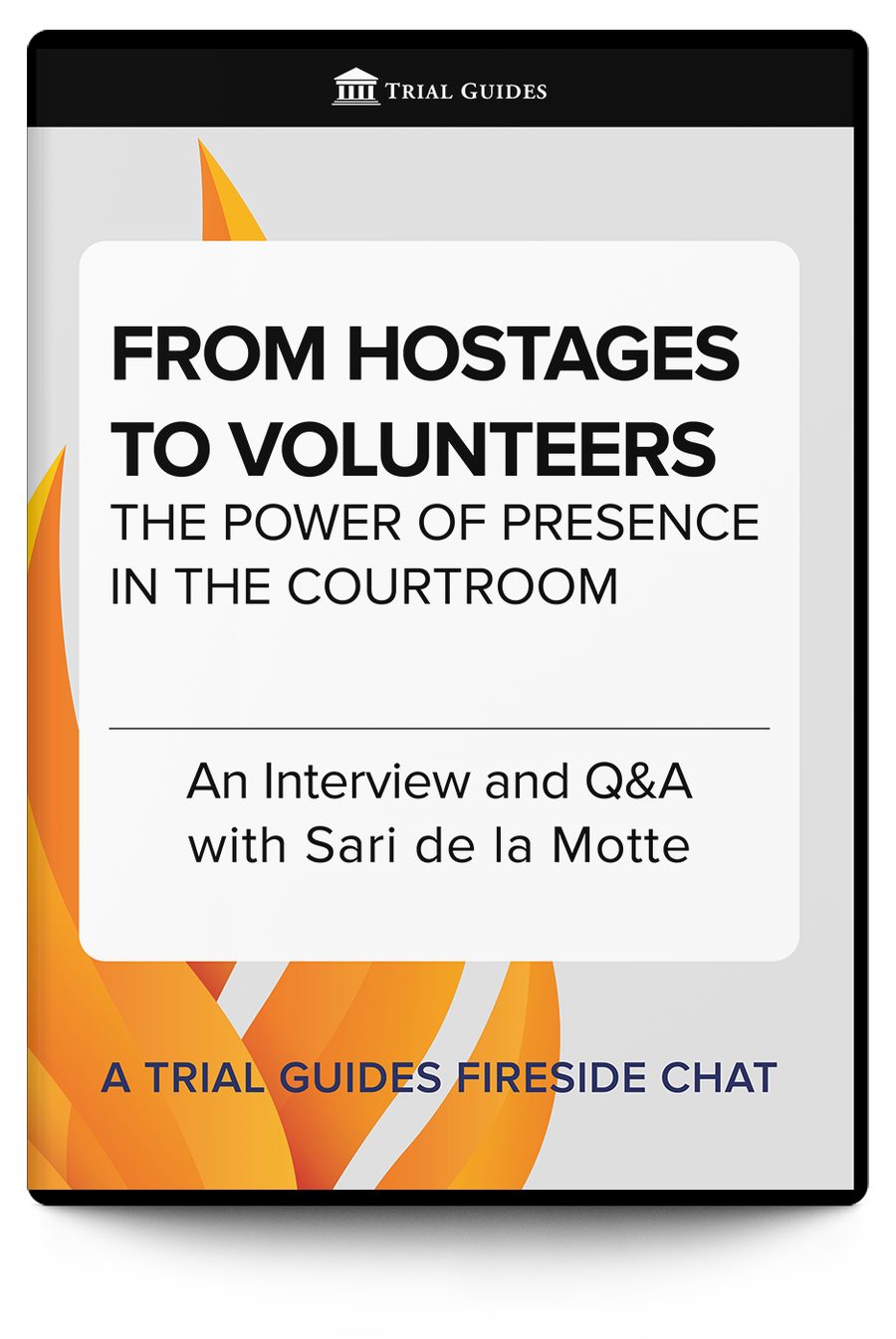 Please Note: This product is only offered as an Audiobook. You can access your audiobooks through theTrial Guides App for Lawyers button on your account page.
Click here for further information on Audiobooks
In this interview, Sari de la Motte, nationally acclaimed trial consultant and the author of From Hostage to Hero, shares her proven strategies on using nonverbal communication techniques in the courtroom. All communication either addresses the issue at hand or nurtures the potential relationship. Rather than trying to find a personal connection with the jurors, de la Motte theorizes that if you immediately communicate to jurors why they are here and what the issue is, they will become more receptive and open-minded.
De la Motte shares sample questions and other ways to conduct voir dire that avoid unnecessarily taking up your and the jurors' time. She also uses examples from past clients who adjusted their body language mid-trial to increase their advocacy and improve their presence in the courtroom. If you can confidently and competently present yourself as a leader, the jurors are more likely to follow you and get on board to fight for your cause. De la Motte explains the three crucial steps to this process:
Create safety for the group

Assume leadership

Empower them to fight
Following the interview, de la Motte takes on listeners' questions:
Are there variations in nonverbal authoritative gestures for women?

How to maintain a balance between authoritative and hostile

Training for good breathing

How to make a good first impression on the jury with nonverbal communication

Advice for forming a group when there is individual voir dire

Debating the effectiveness of the "straight to the facts" voir dire approach

Applying nonverbal techniques to bench trials

Does using humor help or hurt your ability to build a relationship with a jury?

Is it possible to teach someone how to be themselves?

How to avoid coming off as too polished without dumbing yourself down

What body language to present when the jury enters the courtroom

Should you ask the jury about their hobbies?

When working in conservative jurisdictions, how do you soften the issue to make

the

jurors more receptive?

Could holding a prop in your hand hurt the jury's perception of you?

How to apply these principles when attorney-led voir dire is not allowed

Is it okay to use panel numbers to identify jurors?

Rule of expectations
Being purposeful with your mind, body, and words can be vital to succeeding in trial. Practicing these techniques and being mindful of your presence ensures a seamless execution when you walk into the courtroom.
*This interview was originally offered to customers as part of our Trial Guides LIVE Fireside Chat series. The content has been remastered and edited for brevity and clarity.
Audio Digital Download: 88 minutes; 1st edition (2021)
Publisher: Trial Guides, LLC