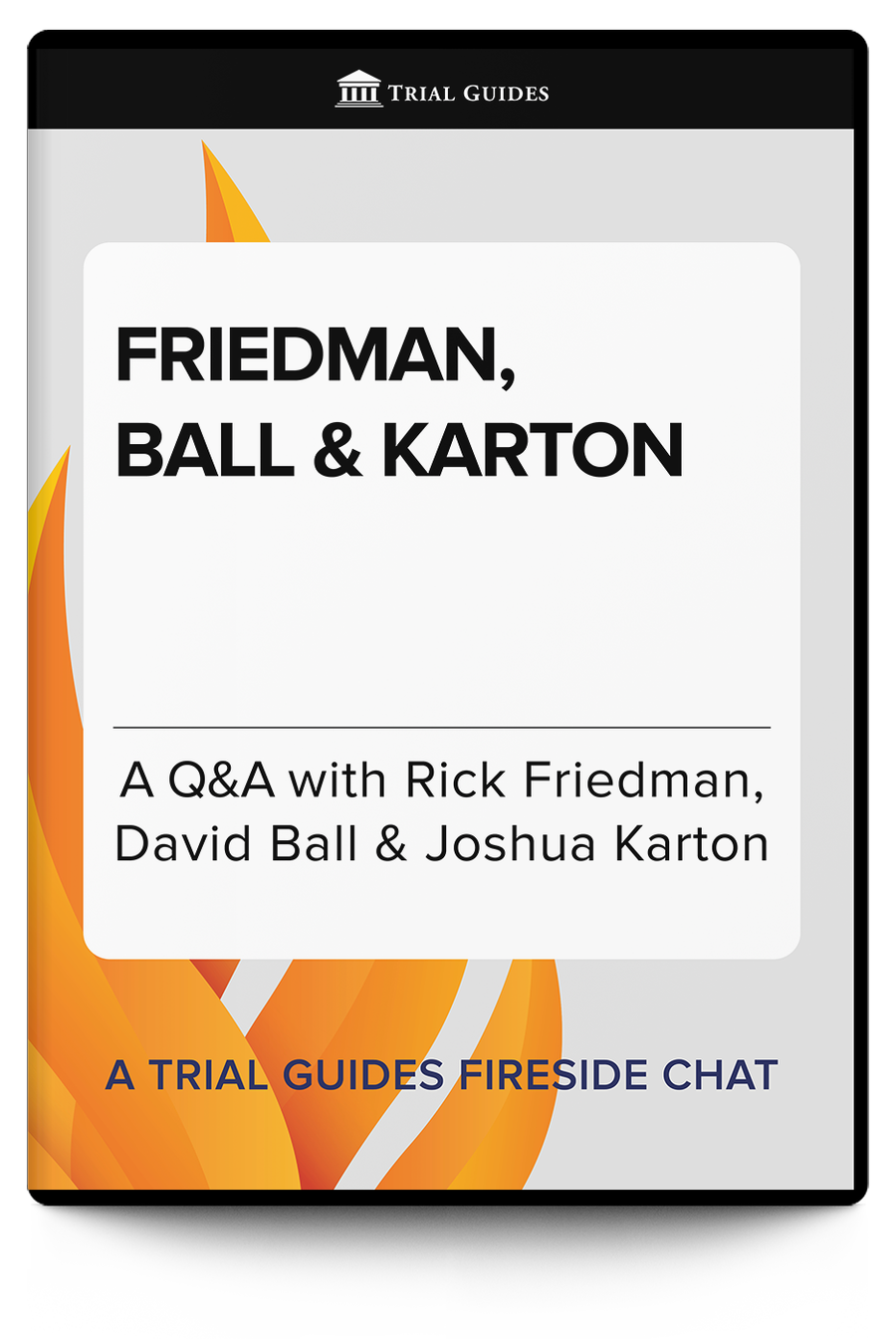 Please Note: This product is only offered as an Audiobook. You can access your audiobooks through theTrial Guides App for Lawyers button on your account page.
Click here for further information on Audiobooks
In this fireside chat, three legal powerhouses and Trial Guides authors, Rick Friedman, David Ball, and Joshua Karton take on questions from listeners and debate their different approaches and case strategies. The specific case questions referenced in this Q&A focus on a variety of legal practices including:
Medical malpractice

Employment law

Civil rights

Personal injury

Wrongful death
Friedman, Ball, and Karton share their tactics for avoiding getting caught up in the defense's webs and also how to create an empathetic argument for your client. The questions and case scenarios range in topics, such as:
In admitted liability cases, how can you make pain a villain?

Issue framing

How to get in front of any bad facts in your case

How to ensure the jury doesn't side with the defense when some of the defendant's actions were not negligent

Combating negative perceptions of your client

The jury's view that the victim should have avoided a dangerous situation

How to polarize your case when the defense is not using the words "liar," "cheat," or "fraud"

Strategies to use in your case when you cannot use the word "insurance"

Resources for demand letters

How to weed out jurors during voir dire who will inherently believe the defense

Condensing your case information when you don't have the time to present it all

Defining the difference between a rule and a theme and how the two correlate

When to reveal your damages number

How can you not accept the defense's admitted liability?

Dealing with witness bias

What is the easiest way to win over a jury?

Is there a correlation between overconfidence and large verdicts?

How to engage jurors in the plaintiff's dramatic struggle

Applying the Reptile and Rules of the Road approaches when the case seems completely accidental

Suggestions to incorporate literary archetypes into stories told during trial
As the three experts in this Fireside Chat will tell you, there is not one perfect way to try a case, but with these proven insights you can better navigate the tough situations you will encounter in trial. Whether it's expanding your perspective and taking a more global approach to your case or adjusting how you present your argument, the measures presented in this discussion can make all of the difference for you and your client.
*This interview was originally offered to customers as part of our Trial Guides LIVE Fireside Chat series. The content has been remastered and edited for brevity and clarity.
Audio Digital Download: 102 minutes; 1st edition(2021)