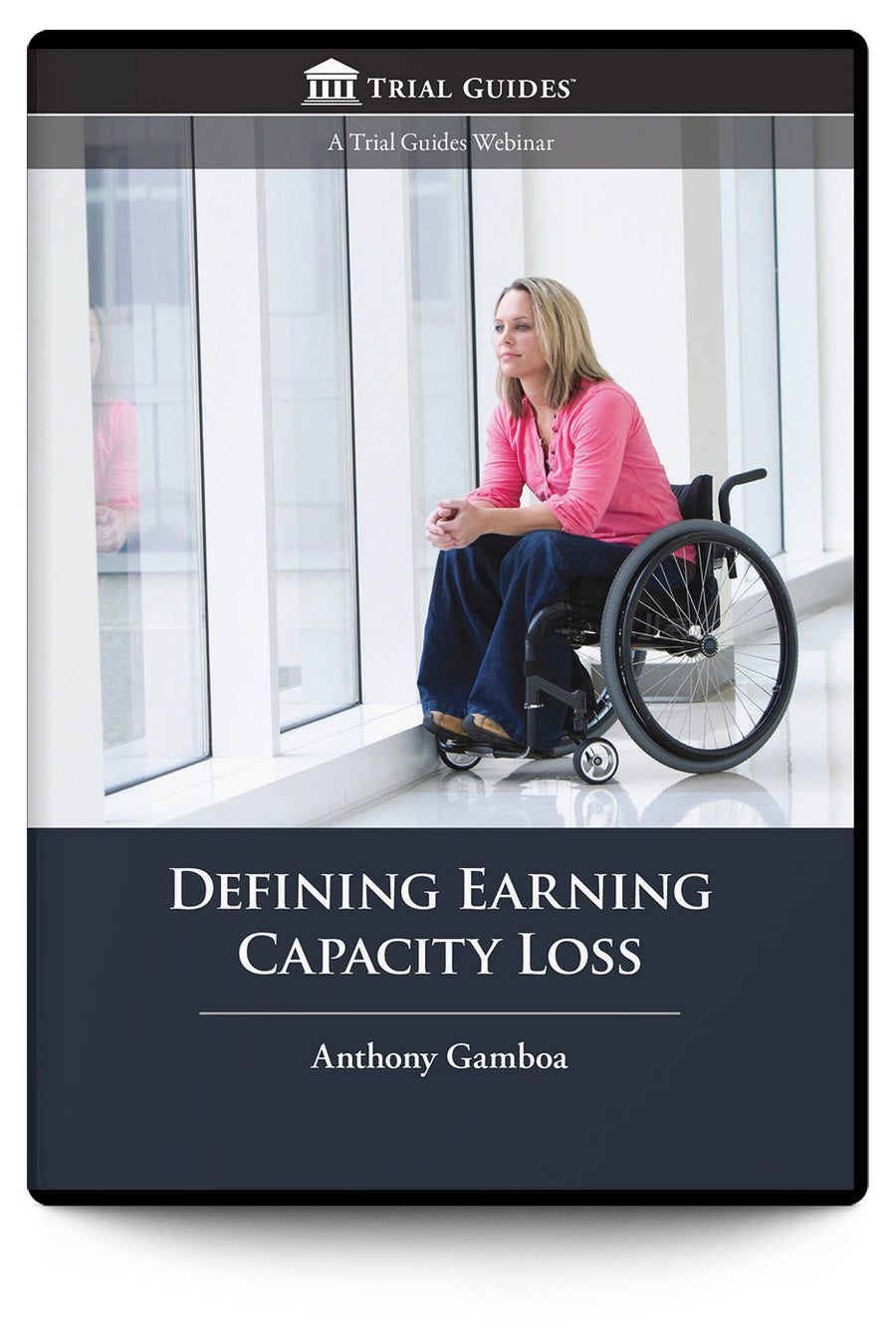 Calculating your client's financial damages after an injury may seem like simple math. Multiply the rate of pay by the amount of time lost, right? Not quite: if you do this, you are probably missing the client's most serious economic loss.
U.S. government statistics suggest that such a simple approach does not consider what the data show about the long-term consequences of an injury. To consider the actual long-term economic effect of an injury, Trial Guides brings you Defining Earning Capacity Loss, a webinar DVD featuring economist and vocational rehabilitation expert Anthony M. Gamboa, Jr., PhD.
This CLE provides you with specific information about assessing the economic value of cases involving individuals with a partial or total disability. The seminar focuses specifically on the following:
Defining "earning capacity loss"
The difference between "wage loss" and "earning capacity"
Defining "reduced earnings" and "reduced work-life expectancy" for persons with a disability
Case studies specific to various types of partial disability
In addition, Dr. Gamboa demonstrates that people with a disability who are employed year-round and full-time earn less on average than their nondisabled counterparts. Then he shows how people with a disability experience a comparative reduction in work-life expectancy. These two facts are true for both men and women, and for individuals at all levels of educational attainment. Data collected by the U.S. Census Bureau illustrate the facts. If you aren't addressing these issues after a permanent injury, you are not obtaining the full amount of a client's future economic damages.
Finally, Dr. Gamboa presents practical and concrete rules for deposing a defense economist and teaches you how to expose economists' inappropriate methodologies and biases, which unfairly penalize individuals with disabilities.
DVD: 57 minutes; 1 disc; 1st edition (2013); ISBN: 978-1934833667
Publisher: Trial Guides, LLC
Disc 1 [57:33]
Defining Earning Capacity Loss
Defining Earning Capacity Loss
Defining Earning Capacity Loss
Defining Earning Capacity Loss
Defining Earning Capacity Loss
Defining Earning Capacity Loss
Defining Earning Capacity Loss
Defining Earning Capacity Loss
Defining Earning Capacity Loss
Defining Earning Capacity Loss
Defining Earning Capacity Loss
Defining Earning Capacity Loss
Total running time: 57 minutes