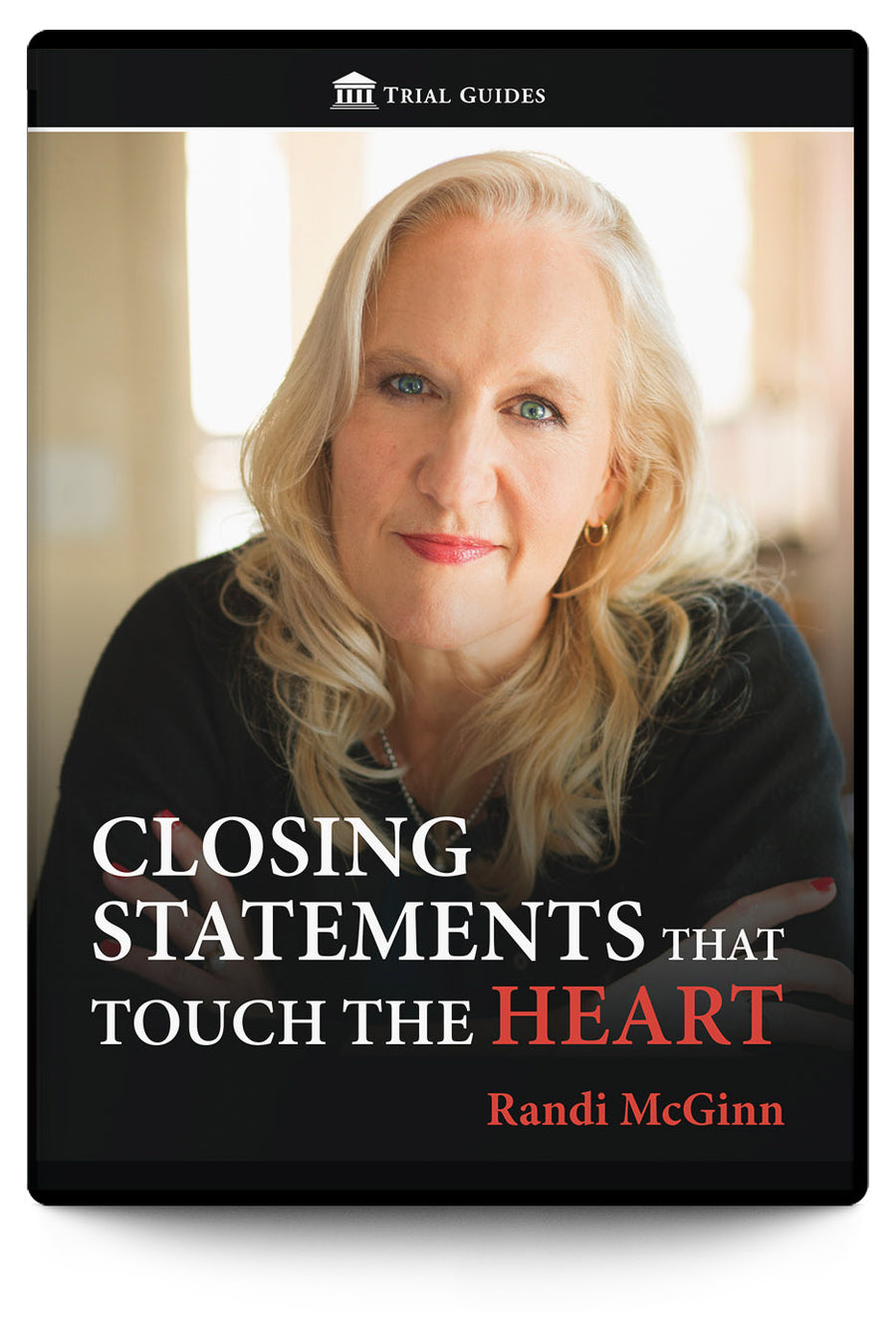 This DVD set features Randi McGinn, one of America's greatest lawyers and the first female president of the Inner Circle of Advocates. She is known not only for stunning cross-examinations, captivating trial themes, and record-winning verdicts, but also for obtaining agreements that make change and prevent further harm. Her dedication to transformative law has inspired others to seek social change in their cases.
In the first DVD, McGinn teaches you how to create compelling testimony in your case-in-chief and give a heartfelt closing statement that will empower jurors to provide justice to your client. In the second DVD, McGinn discusses how you can transform your practice in order to get the client more than just money to compensate for their loss. She will help you to obtain social justice that will prevent similar harm in others.
Closing Statements that Touch the Heart from Trial Guides on Vimeo.
DVD: 107 minutes; 2 discs; 1st edition (2015); ISBN: 978-1941007488
Publisher: Trial Guides, LLC
Disc 1 [00:57:00]
Closing Statements from the Heart
Writing Your Closing Argument
Sample Opening and Closing Arguments
The Legal Goals of Closing Argument
Using the Rules of the Road Method in Closing Argument
Re-Enacting the Case for the Jury During Your Case-in-Chief
Feeling Comfortable Asking for Money for Your Client
What Good Will Money Do?
Empowering the Jury in Your Second Closing
Disc 2 [00:50:00]
Practicing Transformative Law
Lawyers Who Inspire Us
Is It Really All About the Money?
For Many Clients, It Isn't About the Money
How to Make a Difference While Making a Living
Negotiate with Your Client's Non-Monetary Goals in Mind
Total running time:1 hour, 47 minutes