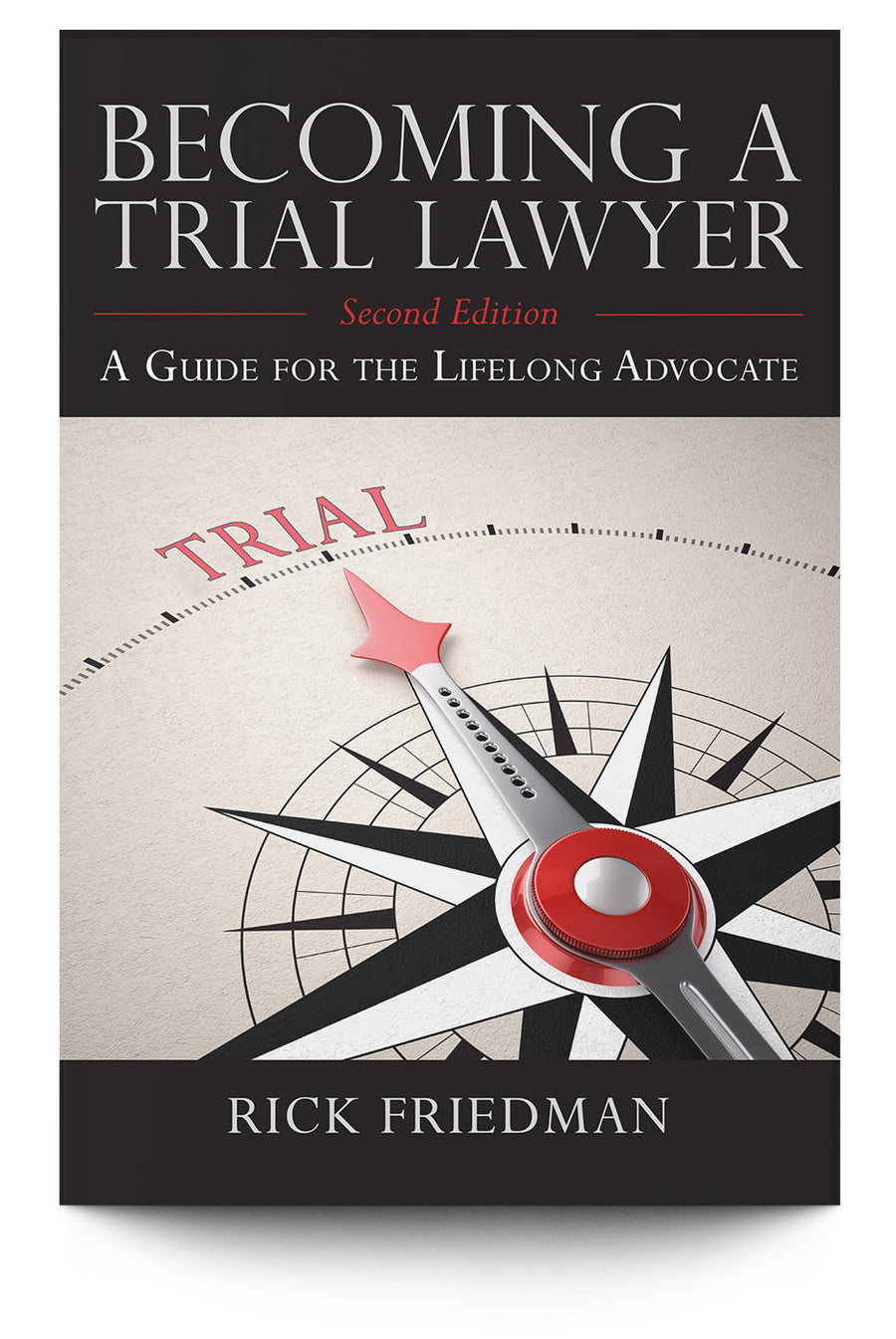 This item is on backorder and will ship on or before Dec. 15th.
In the first edition of
Becoming a Trial Lawyer
, legendary advocate Rick Friedman taught us that the process of becoming a trial lawyer doesn't end. Now, Friedman returns in this second edition with new lessons on losing, comparing yourself to others, luck, and more that prove a true advocate's education is never finished.
Trial law is not for the weak of heart. Advocates at any stage of their careers know that attaining both a happy, healthy home and a successful practice is not easy. Friedman won't profess to have the secret formula for a good life, but his extensive experience both inside the courtroom and out has helped him understand what it takes to balance the personal and professional, and here, he shares these ideas in what might be his most important text to date.
This book is about you. It's about asking the hard questions and doing what it takes to gain experience, make connections, establish the right reputation, preempt mistakes, succeed at trial, and maintain happiness on a career path that is fraught with stress, conflict, and frustration. Becoming a Trial Lawyer: A Guide for the Lifelong Advocate provides a perfect combination of practical advice and uplifting insights to inspire you to better yourself and progress in your career with confidence.
*This book is available to students and lawyers practicing 5 years or less for $45.00 when registered for the Trial Guides New Lawyers program. You can find more information on how to register here.
Paperback: 225 pages; 2nd edition (2015); ISBN: 978-1941007426
Publisher: Trial Guides, LLC
Foreword
Preface to the Second Edition
Introduction
Part I: Entering the Jungle
Why Be a Trial Lawyer?
Individual Billing Unit or Trial Lawyer?
Educating Yourself
Do You Have What It Takes?
Your First Trial
Beyond Technique
You and Your Opponents
Part II: Traps in the Jungle
Beware of Formulas
Do Not Expect Perfection
Forget Playing It Safe
More Is Not Better
Strategic Detachment
Your Lawyer Status Carries No Weight with the Jury
Forget about Looking Good
Don't Try to Fool the Jury
Don't Assume the Jury Will Respond _x000B_ to Your Favorite Arguments
The Limits of Logic and Sympathy
Don't Gorge on Experts and Starve for Lay Witnesses
Spend More Time with Witnesses and Clients
Jurors Don't Need to Like You or Your Client
Embrace Your Conservative Values
Silence Can Be Your Friend
You Must Ask for Money
Superstition
Part III: At Home in the Jungle
Therapy
The Cancer of Comparison
Losing
Luck
Settlement
Physical Health
Family and Friends
Competitors and Comrades
Partners and Staff
The Key to Unhappiness
Afterword
Recommended Reading List
Acknowledgements
About the Author
What Legal Leaders Are Saying
In this amazing book, Rick Friedman plumbs the depths of the soul of a trial lawyer to reveal what scares us most and how to overcome those fears. For new lawyers and scarred veterans seeking inspiration to continue the fight, this book reminds us that it is not the fearless who are courageous, but those who, fully understanding the risk of loss, walk into the arena of the courtroom anyway.
— Randi McGinn, president of the Inner Circle of Advocates and author of
Changing Laws, Saving Lives: How to Take On Corporate Giants and Win