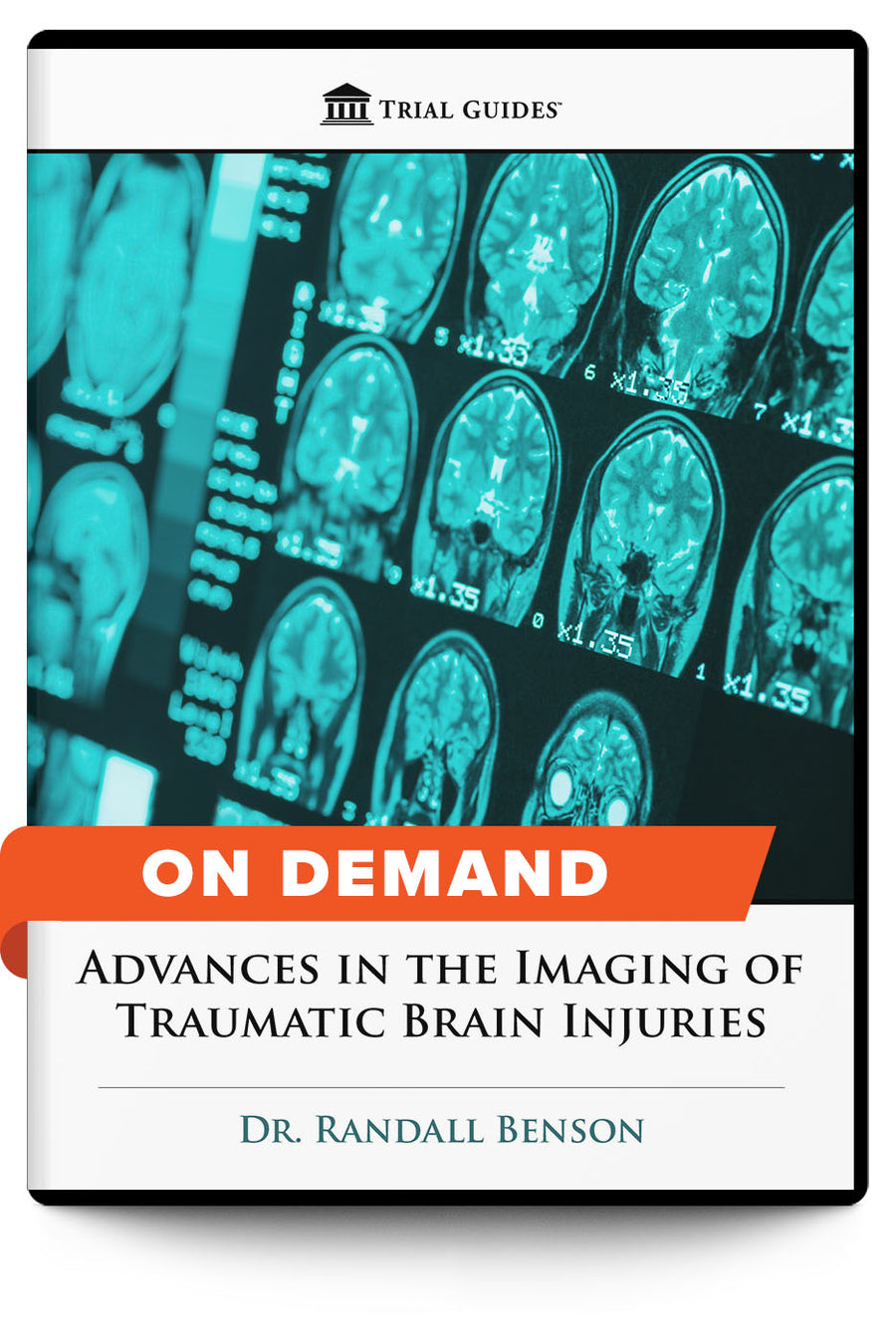 Click here for Access Instructions for On Demand Programs.
Each attendee must register individually as they will need their own login to access the event.
One of the challenges lawyers and doctors face in brain injury cases is obtaining imaging that demonstrates a structural change, as approximately 80 percent of all traumatic brain injuries (TBIs) have negative advanced imaging. This is why it is important to understand what imaging is most likely to show any change, and what to investigate if the imaging is negative.
This brain injury program features one of the world's leading behavioral neurologists and imaging neuroscientists, Dr. Randall Benson. In this presentation, Dr. Benson will address the following neuroimaging concepts for brain injury cases:
Multi-modality MRI is sensitive to even mild TBI, and provides objective diagnosis of mild TBIs

The convergence of evidence across behavioral exam, biomechanics, and imaging

Negative imaging requires investigating other diagnostic possibilities, such as endocrine lab testing, visual system disorder evaluation, and other evaluation methods
Dr. Benson was the first dual research fellow in behavioral neurology and functional magnetic resonance imaging (fMRI) at Harvard Medical School and the esteemed NMR Center at Massachusetts General Hospital. It was during his fellowship that Dr. Benson pioneered a (at the time) new technique, fMRI, for mapping language areas in the brains of neurosurgical patients. His work eventually led to FDA approval for fMRI pre-surgical mapping in 2007, and it now is a clinical procedure performed throughout the world. Since 2004, Dr. Benson has worked to develop and validate advanced imaging methods to detect mild traumatic brain injuries, which constitute 80 percent of all TBIs that are not normally demonstrated on MRI or CT.
Dr. Benson has been a principal investigator, or co-investigator, on research supported by globally recognized institutions including the US Department of Defense, the National Institute of Health, the National Football League, and others. He has also testified before the House Judiciary Committee on brain injuries in football, and before the Department of Defense on the impact of mild traumatic brain injuries. He is recognized for developing new, more effective treatments for incapacitating brain disorders (TBI, MS, and stroke) through the use of advanced functional MRI methods, which provide unprecedented understanding of brain function and disease.
If you handle medical or legal issues involving traumatic brain injuries or other types of brain damage, this is your opportunity to learn about brain imaging from one of the world's leading doctors.
On Demand Program: 78 Minutes
Original Air Date: 06/21/2022