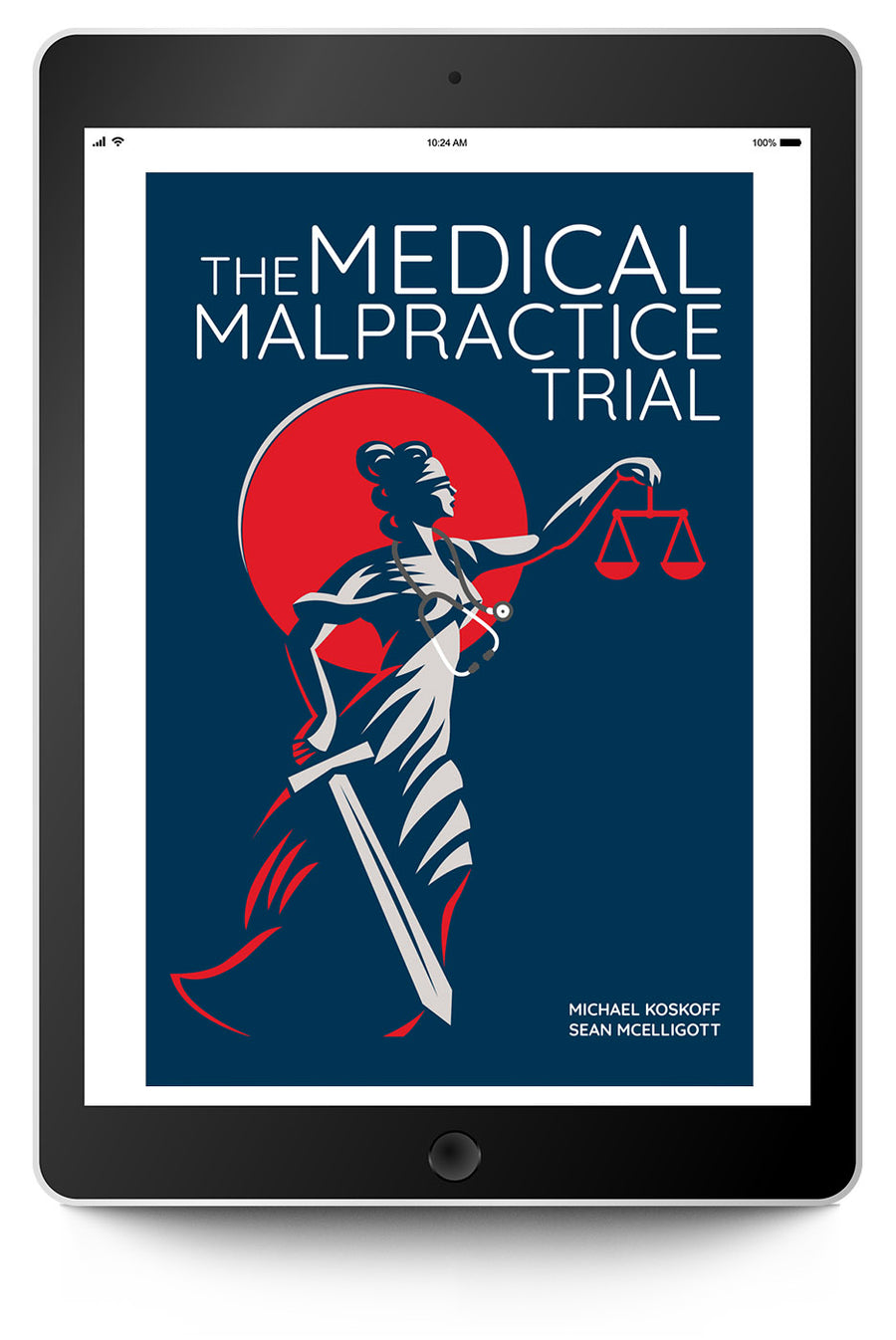 In The Medical Malpractice Trial, Michael Koskoff and Sean McElligott teach you how to successfully select, prepare, and resolve medical malpractice cases.
With easy-to-understand lessons that you can put into practice right away, Koskoff and McElligott sharp-shoot specific topics and common issues. They provide a thorough, nuanced discussion on the standard of care and show you how to turn this vital concept into an advantage for the plaintiff. And they demonstrate how to counter defenses that rely on medical judgment, the risk of the procedure, and typical defenses in a misdiagnosis case.
The authors incorporate references to several cases that cover a range of common malpractice areas with detailed examples. They also offer guidance on medical literature, demonstrative evidence, expert depositions, focus groups, damages, the psychology of persuasion, and how to frame a medical malpractice case.
Koskoff and McElligott provide proven methods for any trial lawyer looking to win their next medical malpractice case.
Your eBooks are now accessible from your Trial Guides account! Click here for instructions.
Do you want the eBook and print book? After you complete your purchase of the print book you will receive a coupon code via email to purchase the eBook for $20.
eBook: 330 pages; 1st edition (2019); ISBN: 9781941007853
Publisher: Trial Guides, LLC; AAJ
Introduction


Part One: The Standard of Care


Finding the Standard of Care
The Medical Judgment Defense
The Risk of the Procedure Defense
The Misdiagnosis Case


Part Two: A Battle Plan for Trial


Opening Statement
Order of Proof
Trial Technology and Courtroom Optics
Demonstrative Evidence
Goals of Closing Argument
Battle Plan for Final Argument


Part Three: Starting the Lawsuit from Intake to Complaint


The Take or No Take Decision
Gathering Relevant Information about an Intake
Practical Considerations about a New Case
Get an Expert
The Complaint


Part Four: Nuts and Bolts


Getting and Using Medical Literature
Defending Your Expert's Deposition
Deposing the Defendant's Expert
Mediation
Some Thoughts on the Psychology of Persuasion
Focus Groups
Some Thoughts on Framing a Medical Malpractice Case


Conclusion
What Legal Leaders Are Saying
Koskoff and McElligott have done what some thought impossible: they have written a clear, direct guide to handling medical malpractice cases. They survey common (and many uncommon) problems that confront plaintiffs' lawyers and explain the options available for solving those problems. Straight talk and good advice from a med. mal. master and his protégé. Anyone thinking of handling a medical malpractice case should read this book.
— Rick Friedman, past president of the Inner Circle of Advocates and coauthor of Rules of the Road: A Plaintiff Lawyer's Guide to Proving Liability