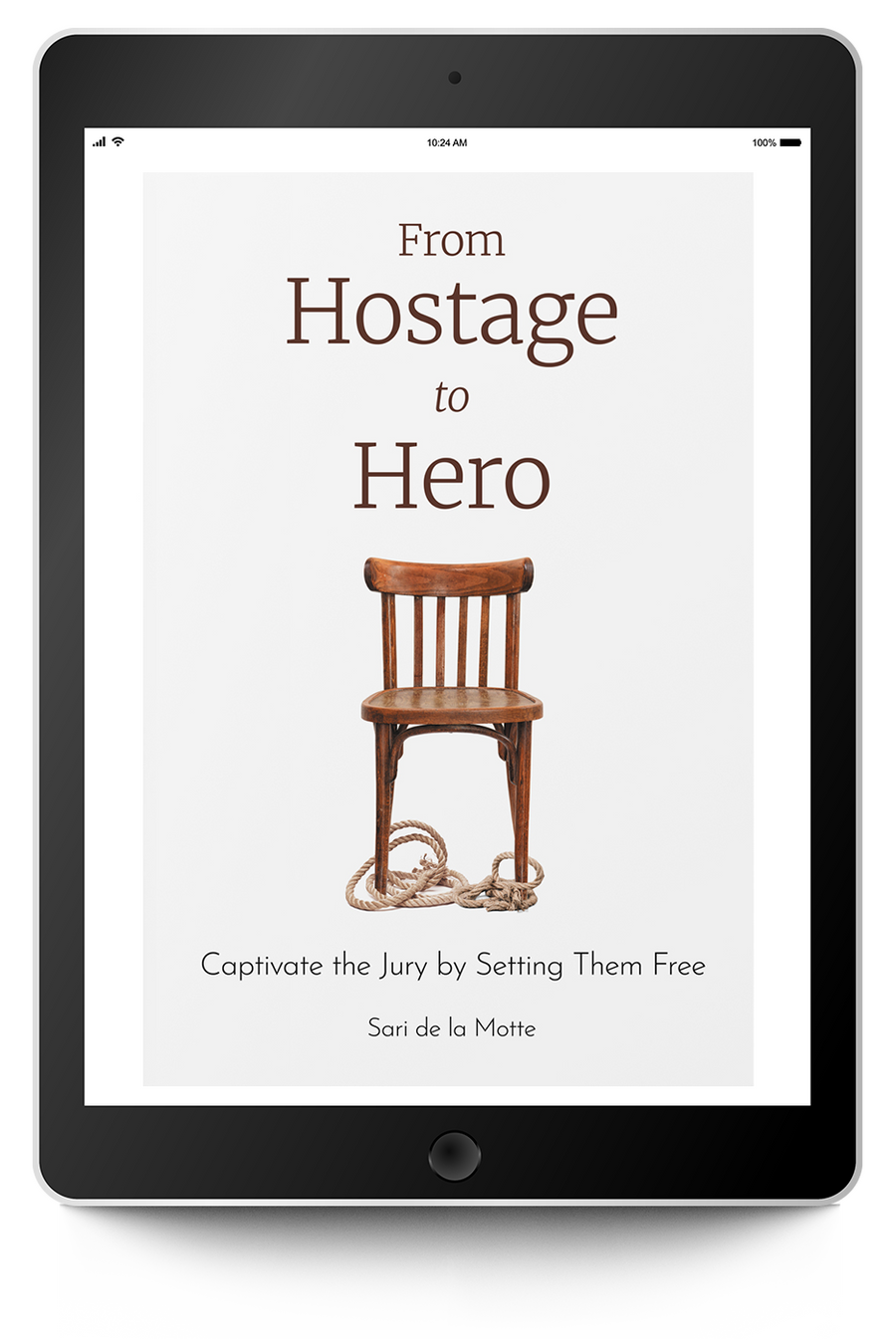 "With this book, Sari joins the ranks of David Ball, Josh Karton, and other great nonlawyers who understand our jobs well enough to actually make a contribution to our cases and performance. Sari is a gifted teacher, and there is practical, trial-ready advice on nearly every page."
—Rick Friedman, past president of the Inner Circle of Advocates and coauthor of Rules of the Road: A Plaintiff Lawyer's Guide to Proving Liability
Jurors feel like hostages. They are ordinary people who desperately need you to show them how to be the fair-minded heroes your client needs. Heroism requires a choice. It's up to you to inspire jurors to take action.
Some jurors are confused, scared, or even angry. They've been inconvenienced and forced to take time away from their lives in order to participate in something that some of them view as a waste of time. They don't want to be there, and they have zero interest in you and your client's case. Yet, they have no choice. Like it or not, they must remain.
Sari de la Motte is an expert in nonverbal intelligence who has consulted on cases with some of the top trial lawyers in the country, including members of the Inner Circle of Advocates. In From Hostage to Hero, she teaches you how to convey meaning and purpose to jurors so they'll wake up and want to actively participate in your client's case.
Sari offers insights and lessons that will help you create effective presentations from the hours and hours you've spent learning your client's case. And she provides examples from cases she's consulted on to demonstrate how you can start applying those lessons today. By learning how to effectively communicate your leadership, you can learn how to inspire jurors to move from being hostages who feel trapped in a room to heroes who want to help your client find justice.
Click here for Access Instructions for eBooks.
Do you want the eBook and print book? After you complete your purchase of the print book you will receive a coupon code via email to purchase the eBook for $20
Paperback: 378 pages; 1st edition (2019); ISBN: 9781941007914
Publisher: Trial Guides, LLC
Foreword by Randi McGinn
Introduction
Part 1: Preparing for Your Mission
We Have a Hostage Situation

Trial's Second Victim

Free Yourself First

The Permission Principle

Actions Speak Louder than Words

Introduction to the Four Steps
Part 2: Operation Rescue
Step One: Introduce Safety
The Three Rs of Safety

Safety Is No Accident
Step Two: Invite Engagement
Create an Issue-Oriented Voir Dire

Engage Jurors to Recruit Heroes

Hostages Unite!

Understanding and Working with Your Jury
Step Three: Inspire Commitment
Prepare an Informative Opening

Create an Opening that Sings

Command and Passion
Step Four: Incite Action
Leadership in Action
Conclusion: Waiting for the Verdict
What Legal Leaders Are Saying
My experience, over fifty-five years of trial work involving well over one hundred jury trials, confirms the unique insight about the jury selection process which is so clearly outlined in this book. A lot of articles and books have been written over the years about jury selection concepts, but this is the first book I've read which so clearly and understandably provides accurate insight about the true precepts involved. Every trial lawyer who is involved in a jury trial should read this book first.
— Paul Luvera, past president of the Inner Circle of Advocates and the Washington State Trial Lawyers Association