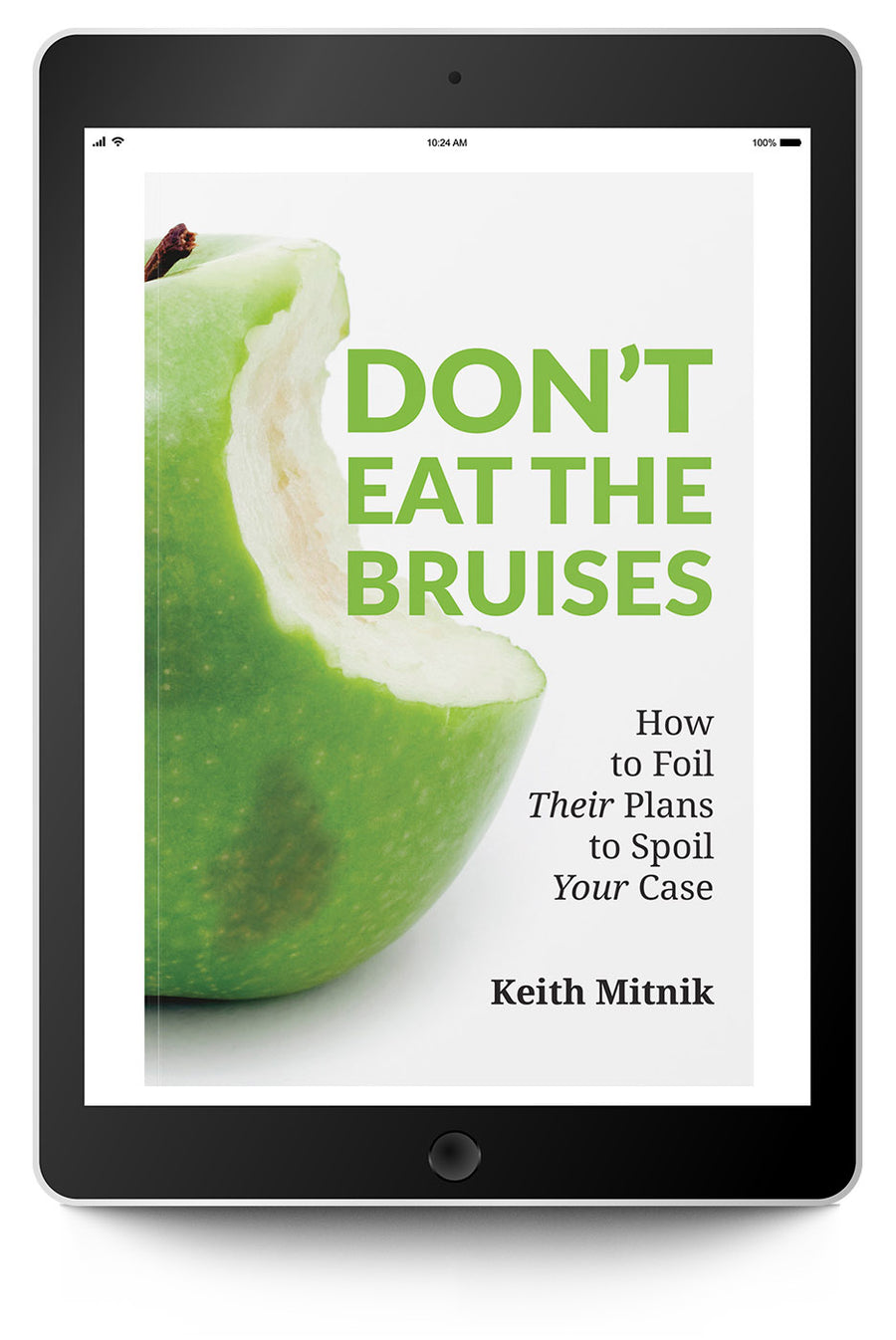 Up to 70 percent of jurors will have made their decision by the end of opening statements. Attorney Keith Mitnik has developed a successful method to show you how to win at the start and dismantle the defense's case while trying yours.
Keith Mitnik lives in courtrooms. When he's not in trial, the senior trial counsel for Morgan & Morgan, the largest personal injury law firm in America, spends his time mentoring his firm's younger lawyers and inventing cutting-edge courtroom strategies. In Don't Eat the Bruises, Mitnik reveals his result-producing methods for the first time in print. Drawing from the hard-won experience of his prolific and innovative career, Mitnik offers an approachable and proven system for trying and winning cases.
Exploiting juror bias, taking things out of context, and overemphasizing imperfections at trial are all "bruises"—cheap tricks that the defense uses to distract from facts and well-constructed cases. Mitnik offers strategies for dealing with these issues in jury selection, opening statements, and beyond, with a heavy focus on dismantling defenses based on bias, sympathy, and prejudice at the very beginning of your case.
Don't Eat the Bruises is an easy to read book that provides you with practical advice on effective legal skills. Whether you're a new lawyer seeking guidance for your first auto case or a seasoned advocate looking for a fresh approach to your upcoming medical malpractice trial, Mitnik's framework provides you with practical tools for winning.
Don't Eat the Bruises will give you the skill and confidence to get out of your office and into the courtroom to seek full justice on your next case.
Your eBooks are now accessible from your Trial Guides account! Click here for step by step instructions.
Do you want the eBook and print book? After you complete your purchase of the print book you will receive a coupon code via email to purchase the eBook for $20.
eBook: 335 pages; 1st edition (2015); ISBN: 978-1941007402
Publisher: Trial Guides, LLC
Introduction
Part I Jury Selection: Cutting Out Bias
Getting Rid of Bias Lightning-Quick
Educating Jurors about Bias
Identify Those at Risk for Bias
Establishing, Expanding, and Fortifying Cause
Nuances and Common Complications
Identification and Cause Questions for Car Crash Cases
More Identification and Cause Questions
Identification and Cause Questions for Medical Negligence Cases
Wrapping Up Bias
Completing the System after Bias
Putting It All Together
Part II The Untapped Power of Opening Statements
Getting Ready to Give and Take
Owning Their Favorite Facts
In Context versus Out of Context
The Language of the Case
Rounding Out the Untapped Power of Opening
Part III The Evidence Phase: Keeping the Lead
Direct-Exam: Building on Opening
Cross-Examination: Holding Your Ground
Part IV Closing: Bearing Fruit to the End
Finishing in Full Stride
Holding All the Cards
The Dignity of Damages
Damages Models
The If-It-Was-Only Damages Model
The Power of Analogy
Part V Burden of Proof: A Brand-New Way
The Civil Burden of Proof
Conclusion
What Legal Leaders Are Saying
Don't Eat the Bruises offers trial attorneys the fruits of Keith's spectacular career. Full of great analogies and helpful tips, this tasty treat will ensure that you remove all the spoiled and bruised parts of your next case—leaving you with a case that is fresh, crisp, and deliciously effective.
— Brian Panish, member of the Inner Circle of Advocates