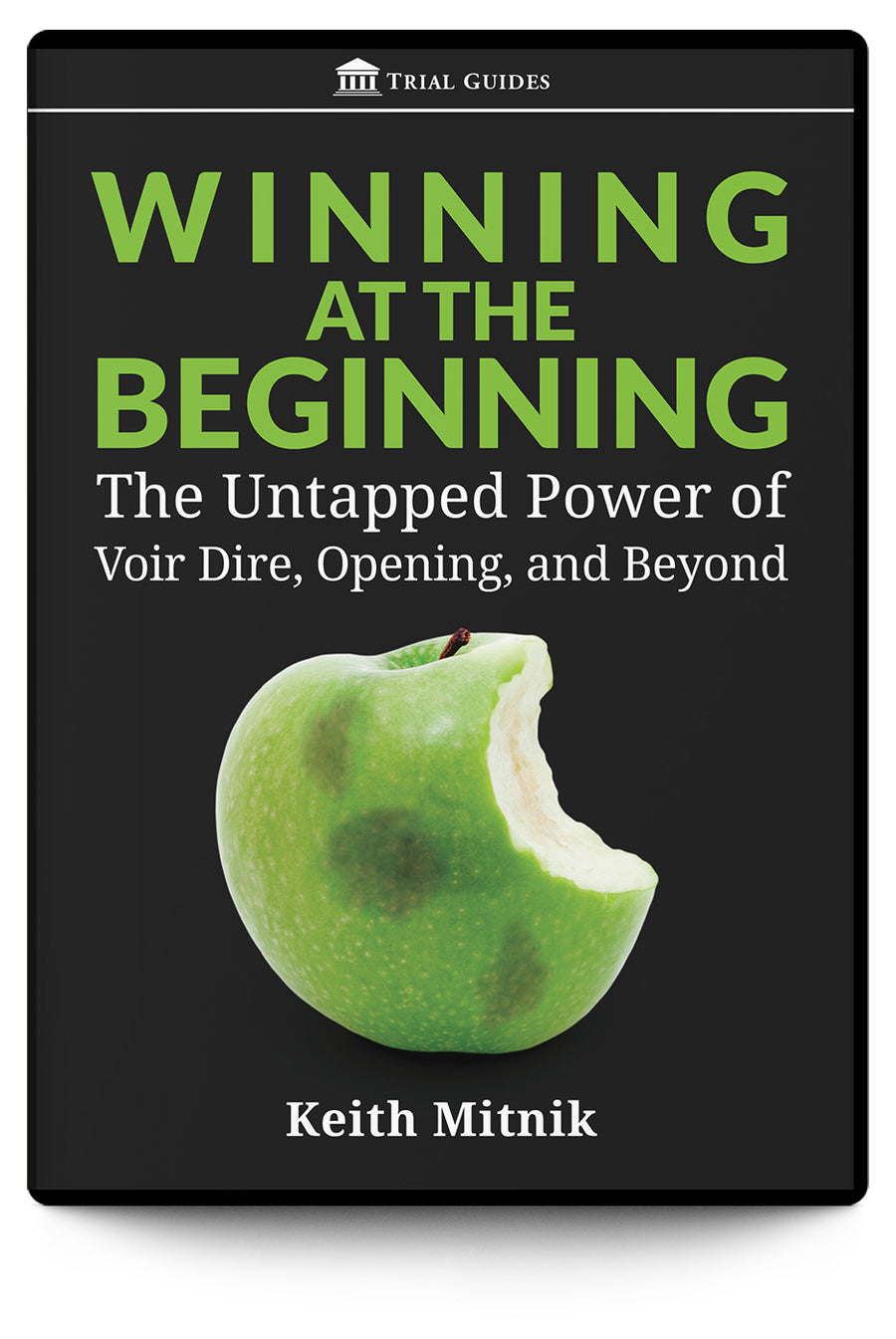 Please Note: If you choose the Audiobook option, you can access it through the Kitaboo eBooks and Audiobooks button on your account page.
Click here for further information on Audiobooks
Winning at the Beginning is a practical approach to solving some of the most common litigation problems by starting your case with a strong opening and a well-chosen jury. Keith Mitnik, one of America's leading litigators, is the senior trial counsel at Morgan & Morgan, America's largest personal injury law firm. Keith mentors the firm's lawyers in trial preparation and practice.
Keith has many years of proven success in preempting shady defense tactics. In Winning at the Beginning, he shares his proven strategies and tactics with you.
On disc one, Keith guides the listener through identifying and curtailing jury bias during voir dire. Using stories from his own cases, he gives a three-step process that involves educating jurors, identifying those with bias, and asking the right questions to establish grounds for cause challenges.
On disc two, he confronts opening statement, providing three alternatives to eating the defense's favored facts at the very beginning of the case: eliminating them, owning them, or putting them into your own positive context. He also lectures on the power of word choice, offers analogies that will help jurors put themselves in a client's shoes, and demonstrates the importance of common sense versus coincidence.
This two-hour lecture will make sure that you start your case out on the right foot and help you to tackle the rest of your trial with confidence.
CD: 120 minutes; 2 discs; 1st edition (2015); ISBN: 978-1941007396
Publisher: Trial Guides, LLC
Disc 1
Introduction
Don't Eat the Bruises
Voir Dire (Educate, Identify Bias, Eliminate)
The Subtle Impact of Juror Bias
Building Cause Challenges Around the Case Law
Removing Jurors for Cause
Discussing Damages in Voir Dire
Minor Impact Voir Dire
Voir Dire in Slip and Fall Cases
Challenges: Representing a Drunk Plaintiff
Disc 2
Opening Statement and Beyond
Put Bad Facts in Context
Common Sense versus Coincidence (Words Matter and Framing)
The Power of Analogy
Total running time: 2 hours