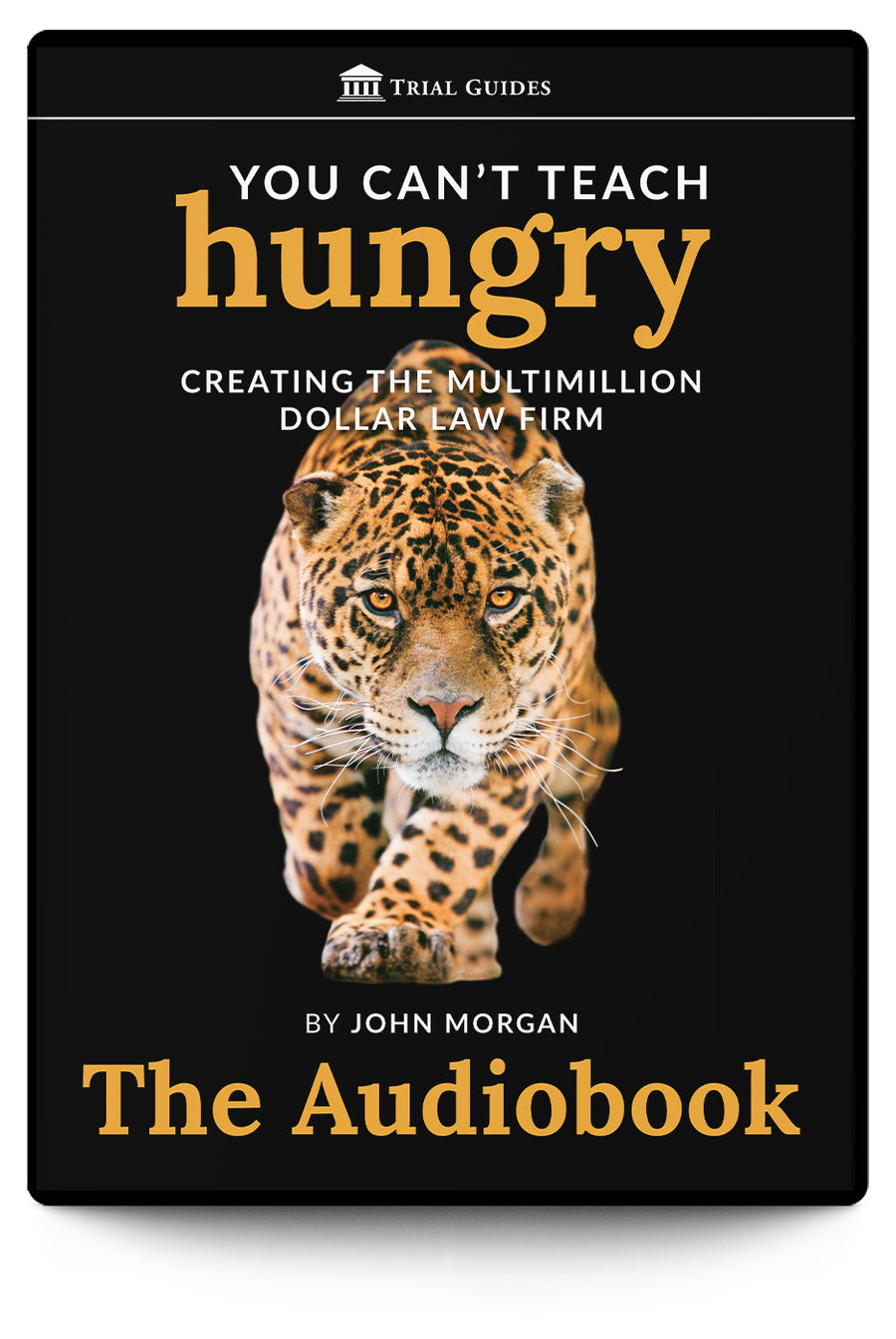 Please Note: If you choose the Audiobook option, you can access it through theTrial Guides App for Lawyers button on your account page.
Click here for further information on Audiobooks
This book is the ultimate guide to building the multimillion-dollar law firm.
In You Can't Teach Hungry, John Morgan shares his secrets, laying out a chapter-by-chapter road map to a sustainable legal practice. Morgan takes you through his earliest life lessons and combines them with practical advice he's gained from twenty-eight years of experience practicing law. You will see the inside workings of his business strategies, marketing plans, and the tools that Morgan uses to evaluate his firm and staff.
You Can't Teach Hungry guides you through the steps to take a thorough inventory that will allow you to make hard decisions to improve and grow your law firm. Morgan walks you through proven practice pointers covering employees, management, case handling, and advertising, recommending steps to best prepare for adverse eventualities—such as diversifying your practice and having contingency plans in place.
This book forces you to ask the tough questions about yourself and your practice—and the answers will amaze and motivate you. If you are starting your own firm, or are a partner in a small firm, this book is a must read. You Can't Teach Hungry shows you how to grow your practice with easy to use tools and techniques. It will change your practice and change your life.
Accompanying the book are downloadable forms and templates that Morgan recommends to help manage your law practice.


Audio Digital Download: 3 Hours 35 Minutes, Revised 1st edition (2015); ISBN: 978-1941007273
Publisher: Trial Guides, LLC
Foreword by Russ Herman
Plant Your Tree Today

The Tortoise and the Hare

Only the Paranoid Survive

The GE Way

Apocalypse Now

You Can't Send a Duck to Eagle School

Rich Dad—Poor Dad

Systems from Good to Great

Who Moved My Cheese?

Systems and Goals

Back of the House

Advertising 101

The Black Swan

Staying Number One

Sam Walton