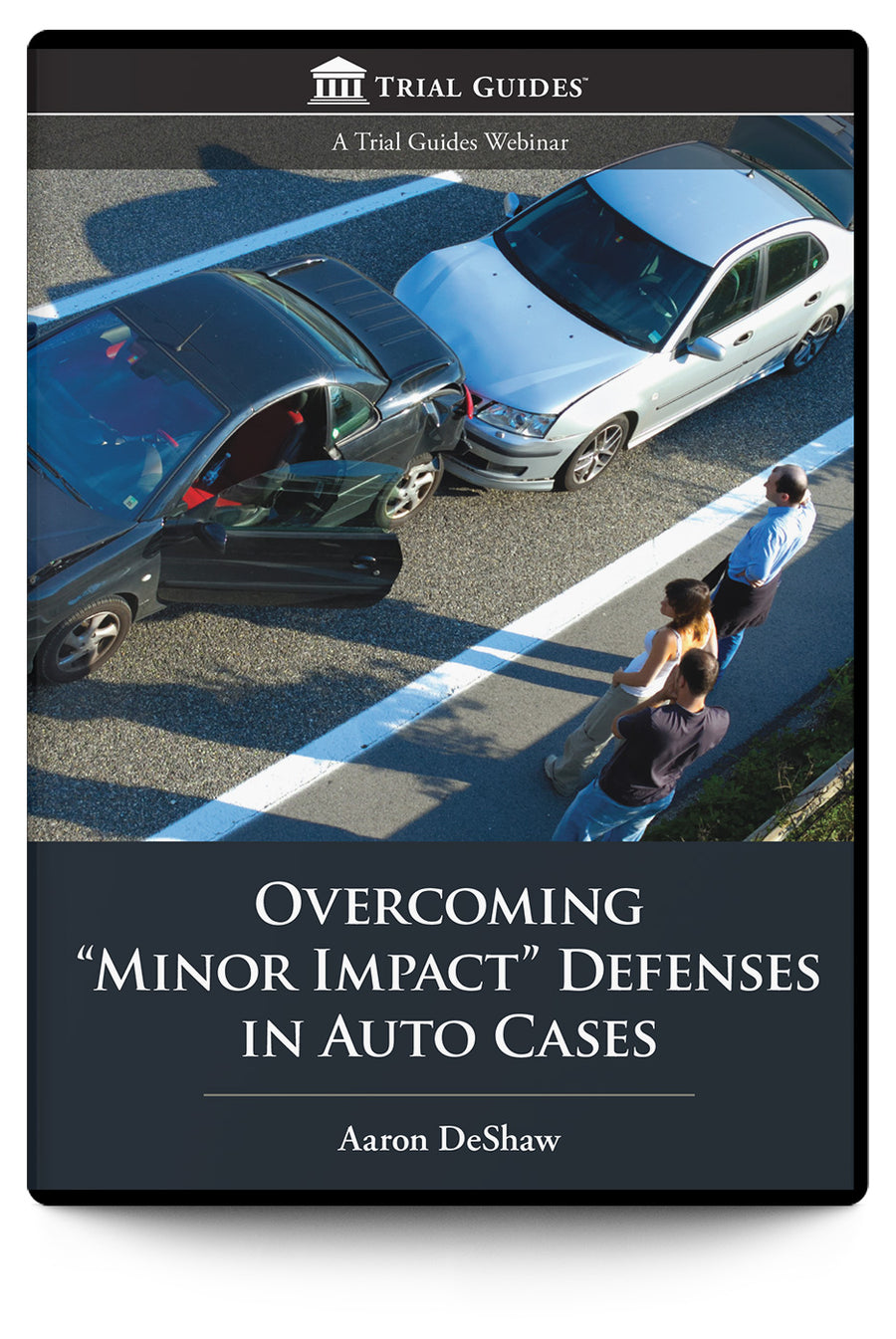 Overcoming Minor Impact Defenses in Auto Cases from Trial Guides on Vimeo.
With new federal crash test standards, cars are more rigid, resulting in less visible vehicle damage, but more severe injuries to the occupants. The result is that many crashes now create no visible vehicle damage, but can still cause life-changing injuries for your clients.
In this webinar, you will learn how to overcome the typical defenses that insurance adjusters and defense lawyers raise. Aaron DeShaw discusses the junk science that the defense uses in cases where vehicle damage is small. You will learn why there is no direct comparison between everyday activities, such as a sneeze or sitting down in a chair, and a traumatic injury caused by a car crash. DeShaw will explain how drivers and passengers can be injured in low-speed crashes when there is little or no vehicle damage.
In this webinar, you will learn:
How insurers have used junk science to manipulate jurors
How defense biomechanists don't address the peak acceleration that injures passengers
How you can get a claim removed from an insurer's "minor impact" unit
And more
This webinar will help you to better represent the many people now injured in crashes with little visible vehicle damage.
DVD: 49 minutes; 1 disc; 1st edition (2013); ISBN: 978-1941007020
Publisher: Trial Guides, LLC
Disc 1[49:21]
Overcoming "Minor Impact" Defenses in Auto Cases
Overcoming "Minor Impact" Defenses in Auto Cases
Overcoming "Minor Impact" Defenses in Auto Cases
Overcoming "Minor Impact" Defenses in Auto Cases
Overcoming "Minor Impact" Defenses in Auto Cases
Overcoming "Minor Impact" Defenses in Auto Cases
Overcoming "Minor Impact" Defenses in Auto Cases
Overcoming "Minor Impact" Defenses in Auto Cases
Overcoming "Minor Impact" Defenses in Auto Cases
Overcoming "Minor Impact" Defenses in Auto Cases
Total running time: 49 minutes