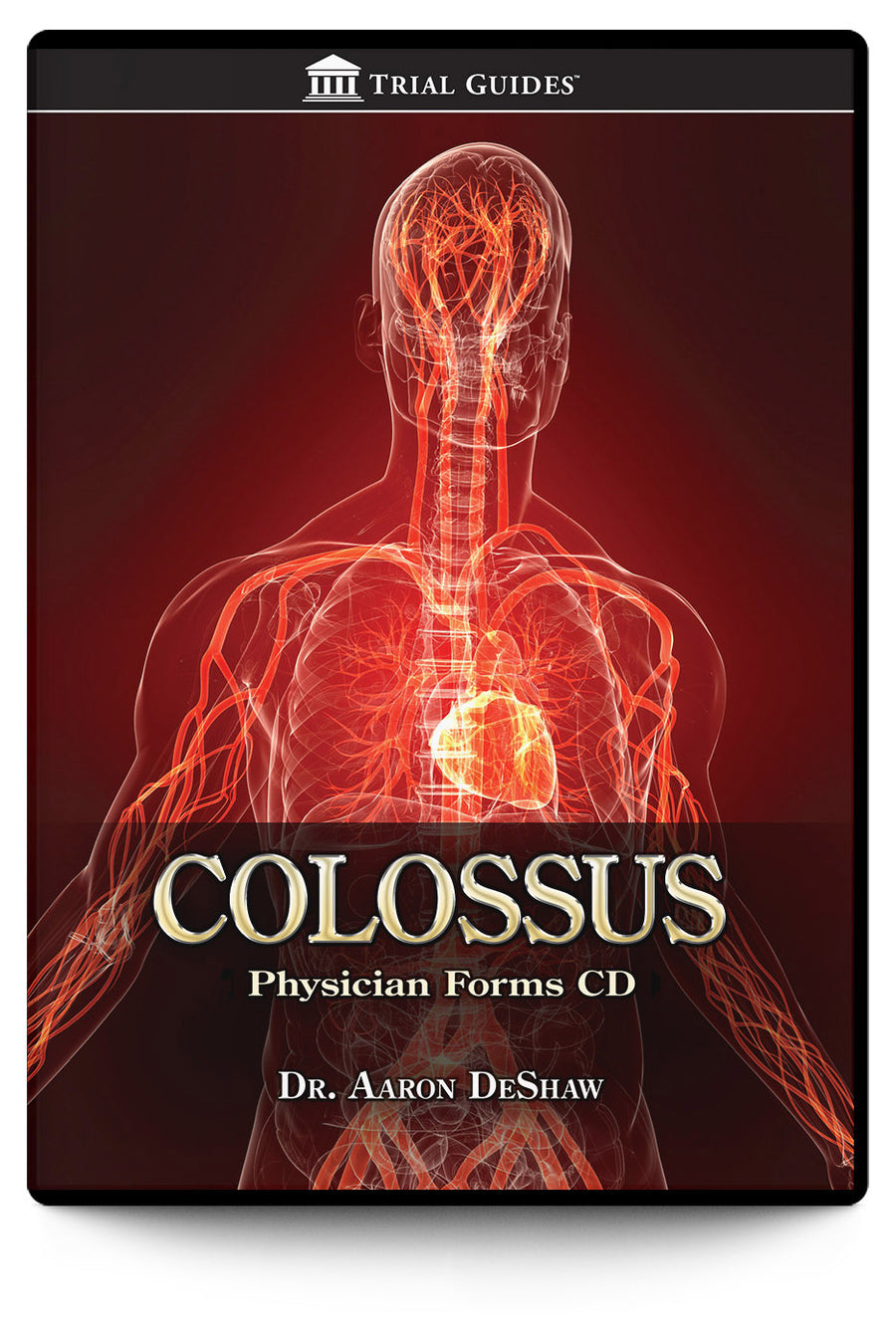 Colossus: Physician Forms from Trial Guides on Vimeo.
Approximately 70 percent of all auto insurers in the U.S. use bodily injury assessment software to determine claim value. Most of them conceal its use or allege they no longer use the software. The most widely used bodily injury claim software is called Colossus, but there are others regularly used by large insurers including Claims Outcome Advisor, ClaimIQ and Xm. Colossus and other bodily injury assessment programs require specific information in order to generate claim value in a patient's case. And often they use terminology that doctors do not use. The outcomes of a personal injury case, determine whether you as the doctor gets paid for the care already rendered to the patient, as well as whether your patient gets enough money for future health care needs, made necessary by injuries they have sustained.
One of the things that has become evident, is that physician notes are the most important (or in some case the only) source of information fed into the software systems. So, your chart notes and narrative reports become critical to the outcome of your patients' personal injury settlement offers.
This CD provides physicians with the clinical forms necessary when dealing with modern insurance companies on personal injury cases. The CD includes forms specifically formulated to provide your patients with the best possible opportunity to get the best offer available from Colossus software based on their actual injuries. This includes clinical intake forms, two brain injury assessment forms, and most importantly, two specialty forms to provide Colossus the information it looks for including "Duties Under Duress", and "Loss of Enjoyment of Life." These two forms alone provide hundreds of "value drivers" taken directly from unprotected claims manuals that provide information necessary for the adjustor to enter the information into the computer programs.
This updated CD also includes a 15 page paper by the nation's leading author on Colossus, Dr. Aaron DeShaw, Esq., discussing how to write a colossus-style narrative report. The disc also includes two templates for step-by-step narrative reports formatted for computer assessment software.
According to the US Department of Justice, lawyers settle more than 99% of all personal injury (tort) cases. Settlement offers have decreased by approximately 60% (adjusted for inflation) since the early 1990s. So, unless the lawyers you work with reject these offers and go to trial regularly, your patients will be stuck with whatever these computer systems offer to them. If you want your patient to have the chance to obtain the best settlement possible, these forms will help you to obtain the best outcome for their actual injuries.
Forms are available in both Word and PDF formats. Some forms also available in Spanish.
This is a companion product to Colossus: Understanding Auto Insurance Claims (aimed at physicians), and the much more detailed Demand Letters (aimed at lawyers). To maximize your patient outcomes, please use this product in combination with one of those videos.
This product is not authorized, sponsored or endorsed by, or otherwise affiliated with, Computer Sciences Corporation. COLOSSUS is a registered trademark of Computer Sciences Corporation and is used here for purposes of identification, description, and comment only.
CD: Forms; 1 disc; Update edition (2010); ISBN: 978-1934833155
Publisher: Trial Guides, LLC