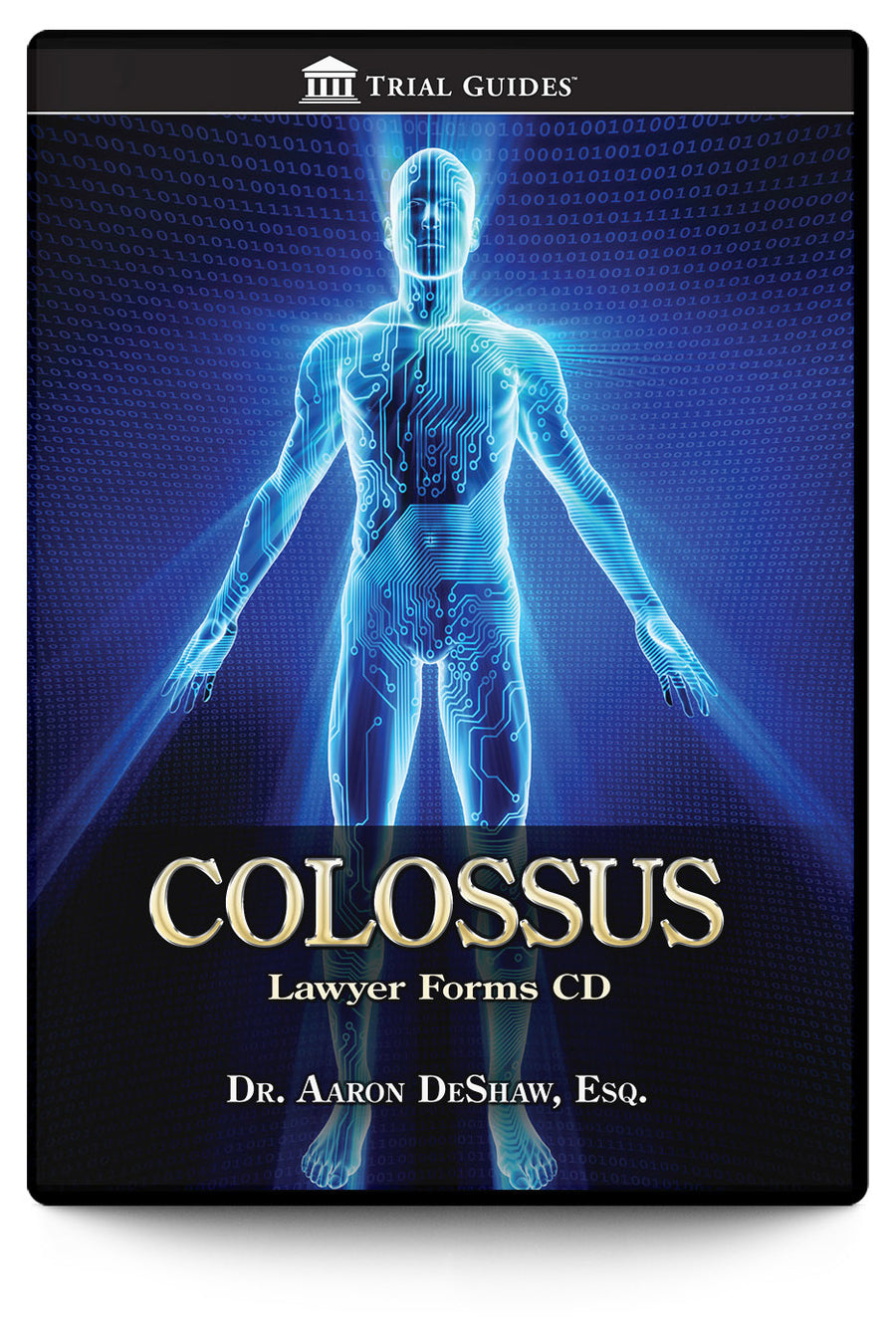 Colossus: Lawyer Forms from Trial Guides on Vimeo.
Approximately 70 percent of all auto insurers in the U.S. use bodily injury assessment software to evaluate claim value in third party cases. Most of them conceal its use or allege they no longer use the software. The most widely used bodily injury claim software is called Colossus. Colossus and other similar programs like Claims Outcome Advisor, ClaimIQ, and Xm, require specific information to generate maximum claim value. To obtain maximum value on the cases you settle, you must provide adjustors with the specific information that insurance claim software requires. Even if a case is filed for litigation, some insurers still restrict all defense counsel offers to the software claim values.
This one of a kind CD provides lawyers with the necessary forms to obtain higher offers against Colossus and similar bodily injury programs. The specifically generated forms, including specialty forms like "Duties Under Duress", and "Loss of Enjoyment of Life," provide the best opportunity for your clients to get the maximum offer from Colossus software based on their injuries. These two forms alone, provide hundreds of factors taken directly from the Colossus program, that will provide value on your cases.
This updated CD includes a 16 page paper "How to Write a Colossus Demand Letter" on how to write demand letters for insurance bodily injury claim software, by the leading Colossus author, Dr. Aaron DeShaw, Esq., along with two templates for step-by-step demand letters formatted for computer assessment software.
Also included is a new client intake form by Dr. DeShaw, as discussed in his Traumatic Injuries DVD set, with checklists for traumatic brain injuries, inner ear injuries, C1 ligament ruptures, psychological injuries, and other conditions not evaluated within Colossus. These lists help you identify more serious injuries during client intake, and allow your clients to seek specialist care early in their cases. Getting a correct diagnosis on all of your clients' injuries can significantly increase case value.
This CD is a must if you handle motor vehicle cases. The Colossus system does not provide a full and fair value to cases, but if you don't go to trial on every case, you owe it to your clients to get the best settlement possible. This CD gives you the tools to accomplish that.
Forms are available in both Word and PDF formats.
This product is not authorized, sponsored or endorsed by, or otherwise affiliated with, Computer Sciences Corporation. COLOSSUS is a registered trademark of Computer Sciences Corporation and is used here for purposes of identification, description, and comment only.
CD: Forms; 1 disc; Update edition (2010); ISBN: 978-1934833162
Publisher: Trial Guides, LLC